Simple Roasted Whole Chicken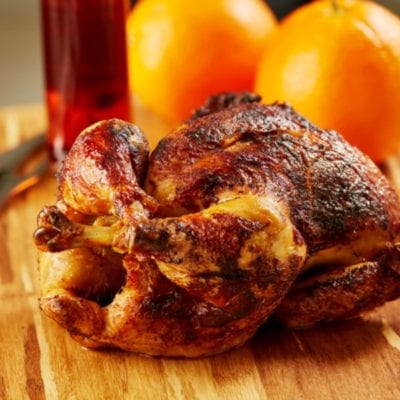 2½ -3½ pound whole chicken
2 oranges cut into quarters
⅓ cup olive oil
2 tablespoons McCormick Rotisserie Chicken Seasoning
16 oz. chicken stock (typically ½ of a box)
Preheat oven to 400 degrees F. Place chicken in a roasting pan.
Rub olive oil on the outside of the chicken and sprinkle with the Rotisserie Seasoning.
Place orange slices in the chicken cavity and around the pan then pour the chicken stock into the bottom of the pan
Bake uncovered on lower rack for 1 hr 15 minutes
Serve with sauce from the pan.
If you do not have a roasting pan, use a medium size disposable pan (I get mine at Costco).
If you can't find the McCormick Seasoning, use 1 tablespoon salt and ½ tablespoon paprika.
When the chicken is done cooking, if you have time to let it sit for 10 minutes before cutting that's ideal, if not, it will still be delicious!
Recipe by
Momma Chef
at https://mommachef.com/quick-easy-simple-roasted-whole-chicken-recipe/