Best Ever and Kid-Friendly Easy Split Pea Soup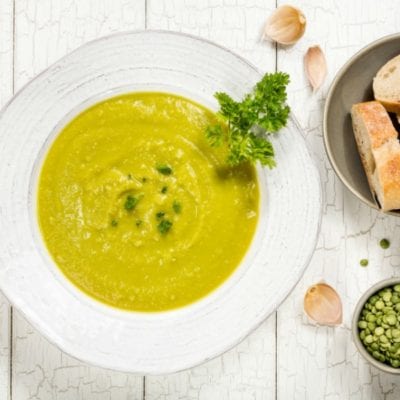 2 cups dried green split peas (or any variety of dried peas)
2 tbsp. olive oil
8 oz. bag of baby carrots
1 chopped onion
6 cups (48 oz.) vegetable broth
2 tsp fresh, frozen or dried dill
In a large saucepan, sauté the onion in olive oil over medium heat for 3 minutes.
Add in the peas and carrots and cook another 2 minutes.
Add the vegetable broth and dill and mix.
Cover partially and cook over medium heat for 45 minutes until peas are very tender.
Puree soup in blender, food processor or soup emersion in batches until smooth.
I get my peas from the bulk section at Whole Foods.
You can increase or decrease amount of carrots
Make sure you blend this soup so the kiddos don't see the hidden veggies!
A great way to get kids to try this soup is to let them add small croutons, as long as they are getting all of these veggies..what's a few more carbs!
Recipe by
Momma Chef
at https://mommachef.com/best-ever-easy-kid-friendly-easy-split-pea-soup-recipe/