Holiday Menu Solved: Momma Chef's Oh-So Easy Pomegranate Braised Lamb Shanks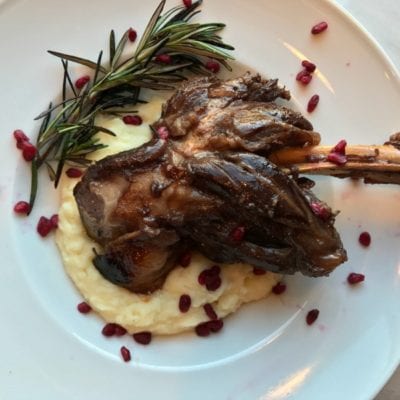 3 lamb shanks (about 4 pounds)
2 cups pomegranate juice
¼ cup honey
1 tablespoon chopped rosemary
1 tsp salt
3 chopped garlic cloves
Preheat oven to 300 degrees.
Mix pomegranate juice, honey, salt, chopped rosemary and garlic in a large Ziploc bag. Add the lamb shanks to bag and, if possible, let it marinate several hours in the refrigerator.
This recipe can be made in a slow cooker or Dutch oven.
If making in the oven, pour all ingredients in a Dutch oven add ½ cup water and bake for 3 hours at 300 degrees.
If making in a slow cooker, pour all ingredients in the slow cooker add ½ cup water and cook on high for 6 hours. Serves 4.
Lamb shanks are wrapped in many layers of plastic, make sure to remove all layers before cooking.
This dish is best served over a bed of mashed potatoes and sautéed spinach.
Before serving, drizzle with fresh or frozen pomegranate seeds.
Recipe by
Momma Chef
at https://mommachef.com/easter-passover-menu-solved-momma-chefs-oh-easy-pomegranate-braised-lamb-shanks/