Ridiculously easy Egg Soufflé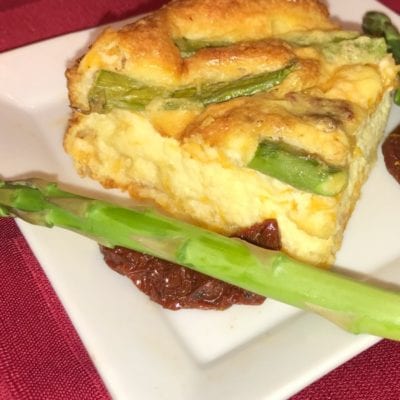 6 eggs
8 oz. small curd cottage cheese
8 oz. grated mild cheddar cheese
¼ cup Bisquick
1 cup milk
½ cup mixture of asparagus tips and sun dried tomatoes (drained and sliced)
Preheat oven to 375 degrees.
Spray Pam into an 8X8 baking dish.
Mix the eggs in a large bowl.
Add each of the ingredients--cottage cheese, cheddar cheese, Bisquick and milk into the bowl. Stir until smooth.
Pour the egg mixture into the baking dish then sprinkle veggies onto mixture.
Bake for about 45 minutes, until the top browns.
You can easily double the recipe. Use a 9X13 baking dish.
You can use low-fat ingredients -- 2% cottage cheese, low fat cheese and skim milk.
We used red and green veggies for Christmas, you can use any variation – mushrooms, spinach, etc. Just make sure to drain them well.
Recipe by
Momma Chef
at https://mommachef.com/quick-easy-egg-souffle-holiday-breakfast-recipe/