Simple Tortilla Pizzas "Tortizza"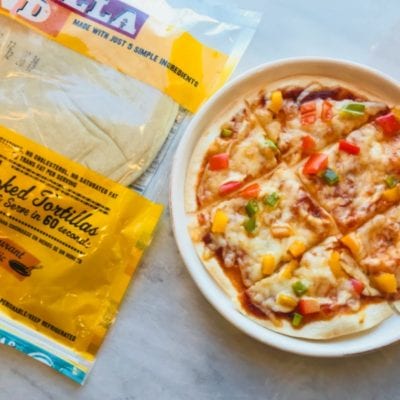 1 TortillaLand Flour Tortilla
¼ cup marinara sauce
¼ cup shredded mozzarella cheese
Toppings (diced peppers and olives go great on these)
Preheat oven to 400°.
Place the tortilla on a small pizza pan.
Spread sauce evenly over tortilla.
Sprinkle the cheese evenly over the top and add your toppings.
Bake in the oven until the cheese is melted and golden and the tortillas are crispy, about 7 minutes.
If you do not have a pizza pan you can place the tortilla directly on the middle oven rack.
Let the tortilla sit for a minute after taking it out of the oven.
Recipe by
Momma Chef
at https://mommachef.com/tortilla-pizza-tortizza-quick-easy-snack/