Jordan's Simple and Delicious Vegetarian Enchiladas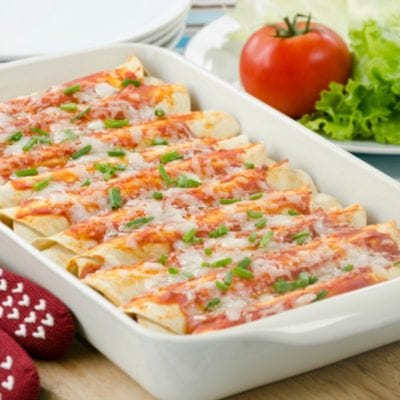 6 medium size tortillas
1-15 oz.can of black beans, drained
1- 4 oz. can of chopped chilies, drained
½ packet of taco seasoning
¾ cup shredded cheddar or jack cheese
½ jar salsa
In a small pan over low heat, warm black beans, chilies and taco seasoning together for 3 minutes.
While this is warming, take ⅓ cup salsa and spread on the bottom of an 8x8 or 10x12 pyrex.
Spoon black bean mixture into the tortillas, fold and put in the pyrex (seam-side down or on the side)
Repeat for the remainder of the tortillas.
Spoon another ⅓ cup of salsa on top of the rolled tortillas and then put a layer of cheese on top
Broil for 5-7 minutes (keep an eye on this).
If serving for company, I like to sprinkle with some chopped herbs right before serving.
This goes great with some sour cream and extra salsa.
Recipe by
Momma Chef
at https://mommachef.com/oh-so-simple-and-delicious-vegetarian-enchiladas-recipe/