Vegetarian Red Beet Soup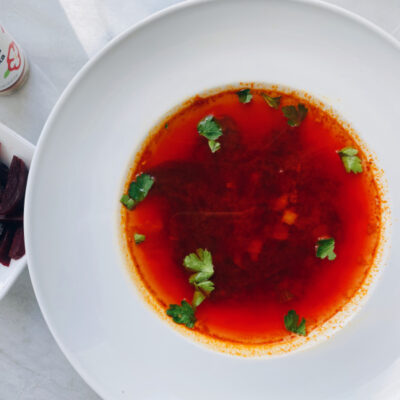 ¼ cup olive oil
1 medium yellow onion, chopped
1 (48-ounce) box of vegetable broth
¼ cup tomato paste
1 (8-ounce) box of cooked red beets, diced
1 tablespoon smoky paprika
In a large soup pot, sauté the onion in olive oil over medium heat for 3 minutes.
Add in tomato paste and mix well.
Pour in the vegetable broth, beets and paprika, mix well.
Partially cover and cook for 30 minutes.
Salt to taste.
Remove from the heat and serve as it, or you can puree the soup in a blender, food processor or soup immersion until smooth.
You can also make this in the crockpot/slow cooker on high for 4 hours.
My favorite beets to use in this recipe are by the brand, "Organic Love Beets". You can find these in the refrigerated section of most grocery stores.
Once the soup is pureed, you can mix in some toppings such as sour cream, diced parsley, and coconut milk.
If you want to add meat to this recipe, when you are cooking the onions, add in 1 pound diced stew meat, add in the rest of the ingredients, cover the pot and cook in the oven at 300 degrees for 3 hours. Do not puree this soup if you are adding in the beef.
My personal favorite is to puree the soup and then mix in some low-fat sour cream.