Oh-So-Simple Honey Mustard Chicken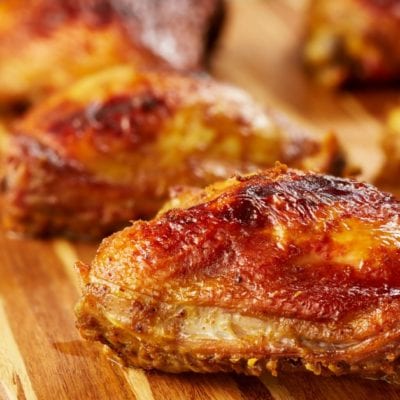 2-3 pounds bone-in chicken pieces
¾ cup honey
¼ cup dijon mustard (gluten-free variety can be used)
¼ cup olive oil
1 tablespoon curry powder
1 teaspoon salt
Mix oil, honey, mustard, curry and salt in a disposable pan.
Add chicken to the pan and spread the honey mustard mixture all over the chicken.
Place chicken evenly around pain with skin-side up.
Bake uncovered at 375 degrees for 45 minutes or until internal temperature reads 165.
If you don't want to make this because of the curry, I promise you will still love this dish! Friends who were resistant to try this because of curry now make this dish weekly for their family!
If you like a crispy skin, broil the chicken the last 5 minutes until the skin has browned.
Serve the sauce on the side as a gravy.
Recipe by
Momma Chef
at https://mommachef.com/super-quick-easy-honey-mustard-chicken-recipe-kid-favorite/