Delicious and Easy Bourbon Chicken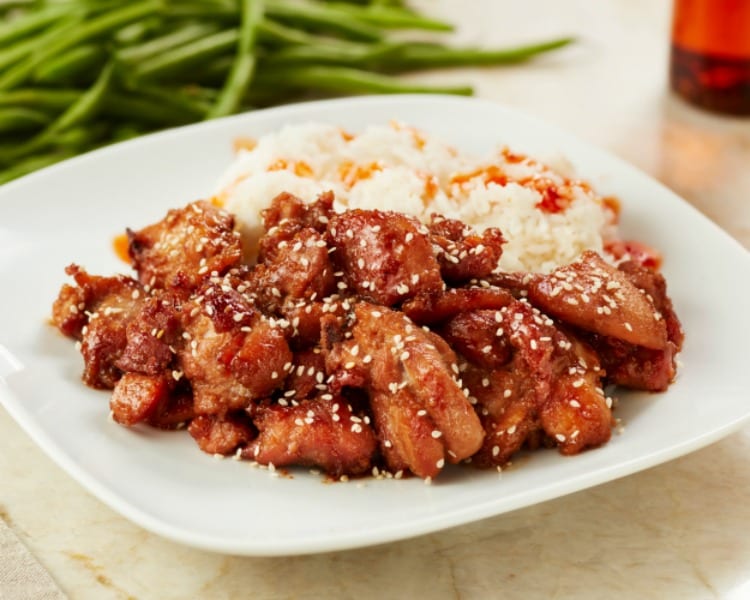 2 lbs. boneless, skinless chicken thighs cut into 2" cubes
¼ c. Bourbon
⅓ c. soy sauce
⅓ c. packed brown sugar
1 tsp. ground ginger
Pour Bourbon, soy sauce, brown sugar and ground ginger into a gallon size Ziplock bag. Seal the bag and shake all ingredient to mix.
Add chicken cubes, seal the bag again, and shake one more time to coat the chicken.
Marinate several hours or overnight.
When ready to cook, heat up wok or large frying pan over medium-high heat. Pour all ingredient from Ziplock bag into wok/pan and stir-fry over medium-high heat for 15 minutes. Mixing as it cooks until the sauce is thick and coats the chicken.
Alternatively you can make this in a Crock-Pot, just pour all ingredients from the Ziplock bag into Crock-Pot and cook on high for 3 hours.
I like to serve this with Trader Joe's brown rice.
If you are purchasing your chicken at a butcher or meat department, ask them to cut the chicken into 2" cubes.
If you prefer white meat, you can substitute for cubed chicken breasts.
Recipe by
Momma Chef
at https://mommachef.com/quick-and-easy-delicious-bourbon-chicken-recipe-kid-favorite/