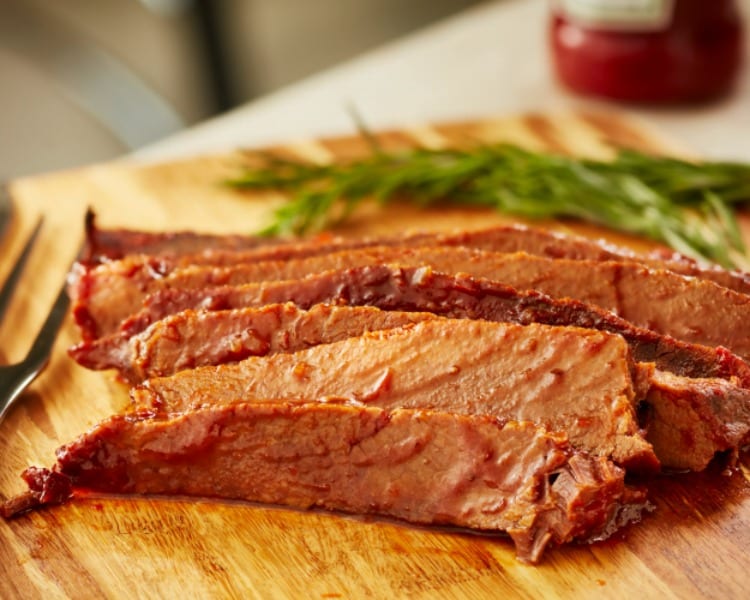 I don't have many family recipes, but this brisket is one of the best. My aunt first introduced me to this recipe 13 years ago, and I have been making it ever since. Over the years, I have made a few minor changes that make the recipe a bit easier to fit my busy lifestyle. My favorite memory of this dish is having it for the first time at a family holiday dinner. My cousin was 9.5 months pregnant and I was 4 months pregnant, both with our firsts! After dinner, a cousin came back to our apartment to play video games with my husband. I went to sleep after an hour; they ended up playing until 4 a.m.  I woke up the next day craving brisket for breakfast (blaming it on pregnancy, of course).  So needless to say, I was less than thrilled to learn that my husband and cousin had eaten the entire two pounds of leftovers in the middle of the night! This has become a staple meal at all holiday meals..enjoy this delicious brisket!

Easiest (and Best) Old-Fashioned Brisket Recipe
Prepare to impress with this easy and delicious brisket recipe. A family favorite!
Ingredients
4 pounds of beef brisket
1 package Lipton Onion Mix
1 bottle Heinz Chili Sauce
1 can Regular Coke (8 oz.)
½ bottle 32 oz ketchup
1 package sliced mushrooms (optional)
Instructions
Place the brisket in a disposable pan or slow cooker.
Sprinkle the onion mix over brisket, top with jar of chili sauce and ½ bottle ketchup. Add the mushrooms and pour the can of coke over everything.
Bake COVERED 4 hours at 325 degrees or in the Crock-Pot on high for 4 hours or low for 8 hours.

Tips:
Keep fat on the brisket to flavor while cooking and trim off when finished and slicing.
Make sure to cut against the grain, butcher will show this to you (tip for all beef).
Do not use Diet Coke..only regular Coke.
If you want extra sauce for gravy, you can add ½ cup water after 2 hours of cooking to bottom of the pan.