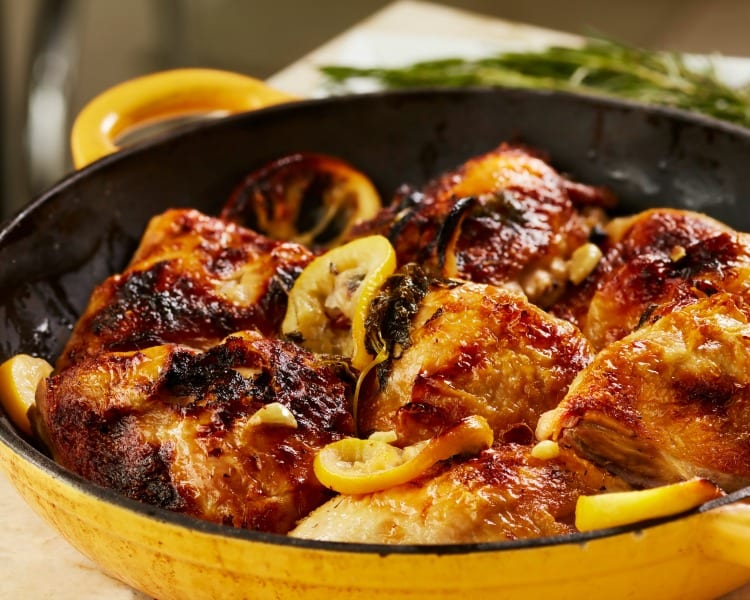 I created this dish after a long day of driving carpool and realized that I didn't have much in the house to make for dinner. It happened during the summer, so I ran outside and grabbed some herbs from my garden. That's how this delicious dish was created.  It's simple enough that your kids will love it — even the picky eaters — and elegant enough that you can serve it for a dinner party. Enjoy!

Roasted Lemon Chicken
Ingredients
2-3 pounds bone-in chicken
Juice of 2 lemons (or ⅓ cup lemon juice)
¼ cup Olive Oil
¼ cup fresh cut up herbs (choice of Basil, Rosemary, Parsley, Oregano)
2 teaspoons salt
4 cloves of chopped garlic
Instructions
Mix lemon juice, oil, herbs, salt and garlic in bowl, this is your marinade.
Place chicken evenly around pan with skin-side up, pour marinade over the chicken (I use gloves and try to stuff some marinade under the skin).
You can also slice 1 squeezed lemon and put around the pan for extra flavor.
Bake uncovered at 400 degrees for 1 hour.

Tips:
You do not need to rinse chicken before baking and to make it easy clean up use a large disposable pan and gloves--see Momma Chef's "Poultry Tips".
Best way to easily squeeze lemons is to cut them in half and throw in microwave for 30 seconds, the lemon will be easier to squeeze when warm.
If you like a crispy skin, broil the chicken the last 5 minutes until skin had browned.
Serve the sauce on the side as a gravy.