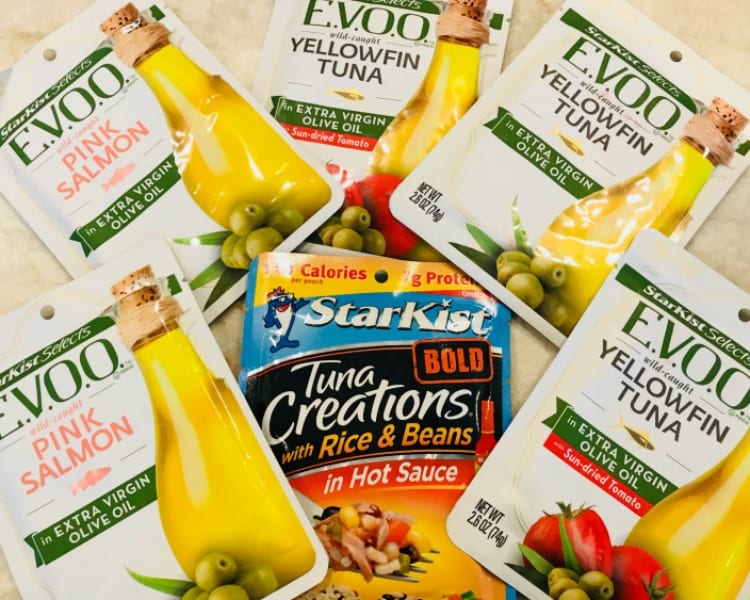 This post was sponsored by StarKist as part of an Influencer Activation for Influence Central and all opinions expressed in my post are my own.
Who doesn't love a quick and easy lunch or dinner? I do—and that is what I discovered with the StarKist Selects.
StarKist has recently introduced 26 new varieties of Tuna and Salmon Creations all coming in single-serve pouches, varieties such as E.V.O.O. Wild-Caught Pink Salmon, Tuna Creations Thai Chili Style, Tuna Creations Herb & Garlic, as well as low sodium options.
The first time I had one of these new single-serve pouches was after a long day of soccer games and driving carpools, I realized I had forgotten to make dinner! Then I remembered the StarKist Selects in my pantry and opened up the pouch of the Tuna Creations® BOLD Rice & Beans in Hot Sauce for my husband. I mixed the tuna with some low-fat mayonnaise, a bit of onion and voilà in 3 minutes my husband had dinner!
Now my kids and I are not that adventurous, the StarKist Selects E.V.O.O. (which is StarKist Tuna in Extra Virgin Olive Oil) was perfect for the rest of the family. I doctored it up with some mayo, celery, and onion salt and dinner for the rest of the family was served.
After trying these products, I realized they would also be a great to-go meal solution. Each pouch is a good source of lean protein and has 110 calories or less, great for the diet! These pouches are all single-serve and would make an easy addition of protein on your favorite salad or you can eat straight from the pouch. And guess what–no need for a can opener, just tear and eat—doesn't get easier than that!
I recently had the fabulous opportunity to attend the Food & Nutrition Conference & Expo and meet with the StarKist Brand. It's amazing how they have created so many new delicious varieties. One of their new products that I did not have a chance to sample but I spoke to the brand about is the Tuna Creations Jalapeno, with 13 grams of protein and 70 calories per single-serve pouch, I can't wait to send this product to work with my husband.
I also had a chance to speak with the Starkist Nutritionist about the healthy benefits of seafood. The U.S. Department of Agriculture and leading nutrition researchers have recently encouraged swapping in 2 servings of seafood in place of other protein foods a week. Here are some suggestions from Starkist to get your weekly 2 servings of seafood.
Salad: It's the perfect topper! Leftover salmon or crab cake or a pouch of StarKist Tuna or Salmon are ideal protein choices for a salad.
Sandwiches: Wrap it up! A whole grain wrap filled with veggies and tuna or salmon make a super-fast and easy lunch.
Mid Afternoon Munchies: Add tuna or salmon on top of cucumber, apple or pepper slices for a quick, satisfying snack.
Creative Swaps: Swap seafood for meat or chicken in some of your favorite recipes. Try shrimp in a stir fry, tuna in tacos or clams in your pasta sauce!
From all of the varies we tried, I have to say my two favorites were the Selects E.V.O.O. Wild-Caught Pink Salmon and the Selects E.V.O.O. Yellowfin Tuna with Sun-dried Tomato. Hope you enjoy these as much I did!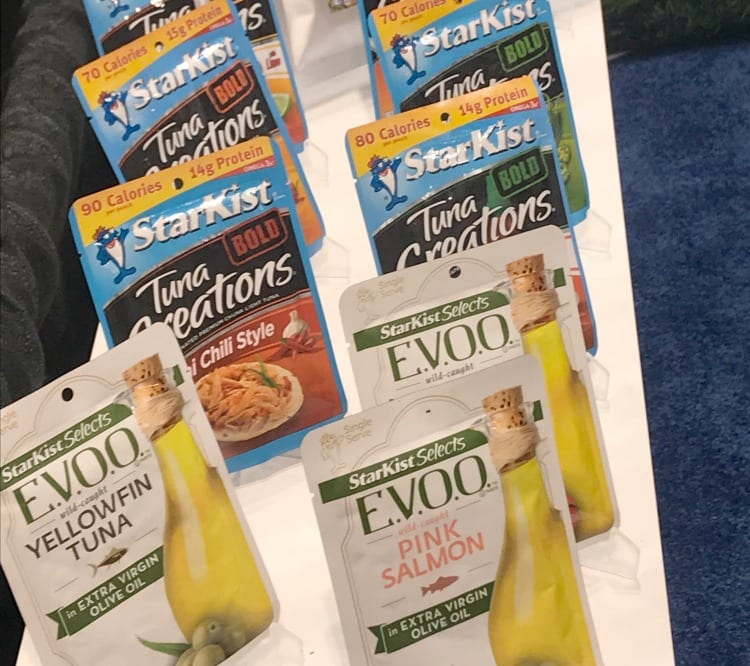 StarKist Selects E.V.O.O YellowFin Tuna on Whole Wheat Bread with Avocado.