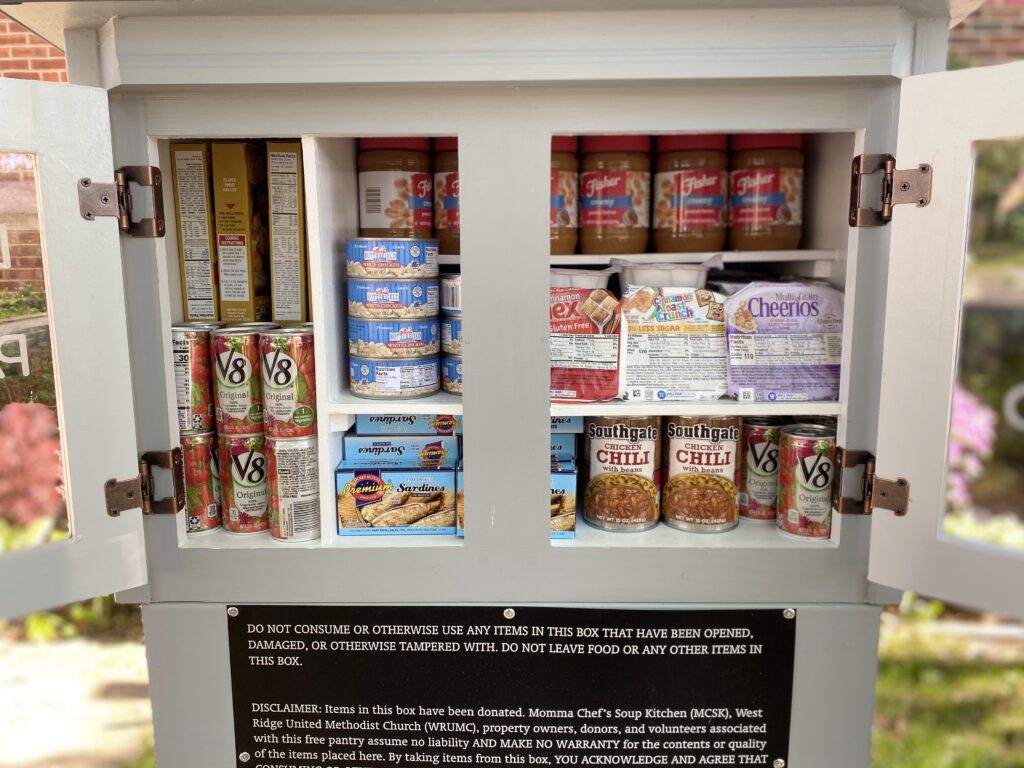 Change the World With Us – One Meal at a Time
In June of 2018, my life was full, and I was happy. My cooking blog, MommaChef.com, was blowing up. I was busy writing articles for dozens of magazines and working with multiple companies to develop recipes for their products. My family – as always – kept my days exciting. It was like a dream-come-true … yet I did not feel complete. Something was off. What was it?
Amidst my endeavors and engagements, my brain must have been secretly percolating on finding an answer. My "a-ha" moment arrived at 3 A.M. when I woke up with a big idea. I had found my missing ingredient: my table wasn't big enough! Yes, my dining room table could sit twelve while my blogging "table" had thousands of cyber-seats. My early morning vision was to extend my table to feed the hungry by opening a soup kitchen – a safe, clean, and uplifting environment to service underprivileged and under-resourced families. 
Once the idea came to me, I was determined to make it happen. Over the next few months, I threw myself into research and networking. I created a business plan, held fundraisers to offset costs, and designed menus to feed more than 100 people. A wonderful facility agreed to donate its space. Within four months — in October of 2018 — Momma Chef's Soup Kitchen opened its doors at Congregation KINS in Chicago.
Every week Momma Chef's Soup Kitchen provides a 5-course homemade, hot meal to anyone who comes to our doors, and we also deliver 70 meals to two shelters in Chicago. We all volunteer our time, using more than 600 volunteers per year to prepare and serve meals. My June 2018 middle-of-the-night epiphany has now provided over 20,000 meals and counting since we first opened our doors.
On some level, I must always be thinking about food because about two years later, inspiration struck again! I happened upon a "Little Free Library" – you've probably seen them in a neighborhood, park, or parking lot. They're cute homemade wooden boxes, housing free books for anyone to take home. It struck me how I could use that same notion to address food insecurity around Chicago. That day, I pledged to myself to start the "Momma Chef Little Free Pantry Movement" to provide 24-hour access to non-perishable food for anyone in need.
If you do the math, you'll realize that particular moment of inspiration took place just as Covid was creating a "new normal." The pandemic outbreak and subsequent shutdown made this idea more difficult to complete, yet more urgent than ever. In May of 2021, the first pantry opened and 2 more followed, we keep the pantries stocked daily with healthy non-perishable food. It's a wonderful way for people in need to take food anonymously at any time of the day. So far, we have provided over 15,000 pounds of non-perishable food to those in need. 
Let me encourage you to listen to that voice that wakes you up at 3 A.M. with a dream to make the world a better place. I believe in you! Reach out to your local soup kitchens and ask about volunteering; call your local food pantries/banks and ask them what donations they need, then fill your car and donate; reach out to local homeless shelters and see if they need volunteers to help cook and serve meals; encourage your children to donate their birthday presents to the local hospitals and have them come along for the ride. 
A portion of the proceeds from my upcoming cookbook, 6 Minute Meals, will be donated to Momma Chef's Soup Kitchen and Food Pantry, Inc.- to order click here. 
Momma Chef's Soup Kitchen and Food Pantry, Inc. is an Illinois not-for-profit corporation formed in 2021 to operate Momma Chef's Soup Kitchen. To donate please click on the "DONATE" button below. :