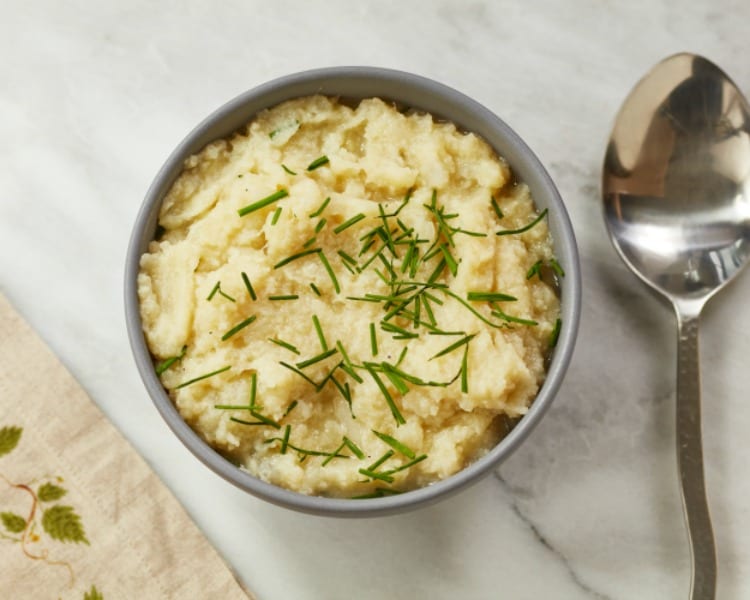 I started making this dish while on one of my 10 different diets of the year. This diet suggested cutting out the carbs of regular potatoes and substituting a healthier version with cauliflower. Little did I know how much I would love this dish and prefer it over the heavier mashed potatoes! I like to mix in some chives as well as sprinkle some on top to give the dish added flavor and presentation. Enjoy!

Healthy Cauliflower Mashed "Potatoes"
Ingredients
8 cups bite-size cauliflower florets (about 1 head or a 20 oz. bag of pre-cut florets)
16 oz. vegetable stock (typically ½ of box)
1 tsp. salt (adjust to taste)
1 tsp. chopped chives (optional)
Instructions
Pour stock, cauliflower and salt in partially covered pot and cook over medium heat for 10-15 minutes until cauliflower is very soft.
When cauliflower is soft, mash with a fork or blend with a hand mixer.
Alternatively, you can make this in the slow cooker/crock pot on high for 2-hours.
Sprinkle with chives (optional).

Tips:
To add a little kick, I like to use Truffle salt rather then regular salt.
You can add 1 tbsp. butter or margarine to make it a bit creamier.