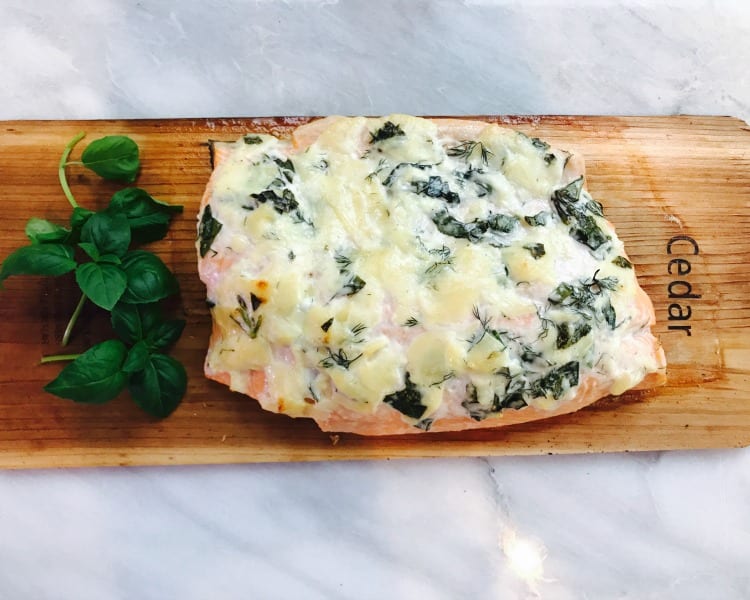 This is a fabulous summertime family meal, simple and tasty. I love the smell of grilling on Cedar plank- but don't forget to first soak it in water, you don't want your first experience to go up in flames–literally!
You will find Cedar planked salmon on many restaurant menus, yet it's so easy — not to mention less expensive — to make at home. This is one of my favorite ways to prepare it.
For those that do not cook salmon often, I will let you in on a little secret; salmon is not only delicious, it is rich in omega-3 fats which help boost your brain and cardiovascular health.
And like all of Momma Chef's creations, this recipe is quick, easy and scrumptious. With only 4 ingredients, you can whip this up in under 5 minutes prep time!

Cedar Planked Parmesan Encrusted Salmon
Ingredients
1 lb. fresh salmon filet (skin removed)
⅓ cup low-fat mayonnaise
⅓ cup grated parmesan cheese
1-1/2 teaspoons finely chopped fresh basil
2 tsp. lemon juice
Instructions
Fill a large bowl or sink with water. Soak the cedar plank under the water for at least 1 hour.
In a bowl, combine the mayonnaise, chopped basil, and parmesan cheese.
Pat the soaked plank dry and place the salmon on top and cover salmon in the parmesan marinade.
Drizzle with lemon juice.
Place the plank on the grill grates, close the cover and cook for 10 to 15 minutes, or until salmon is done to your liking.
If the plank catches on fire, just mist the plank with water.
Like it? Pin it!