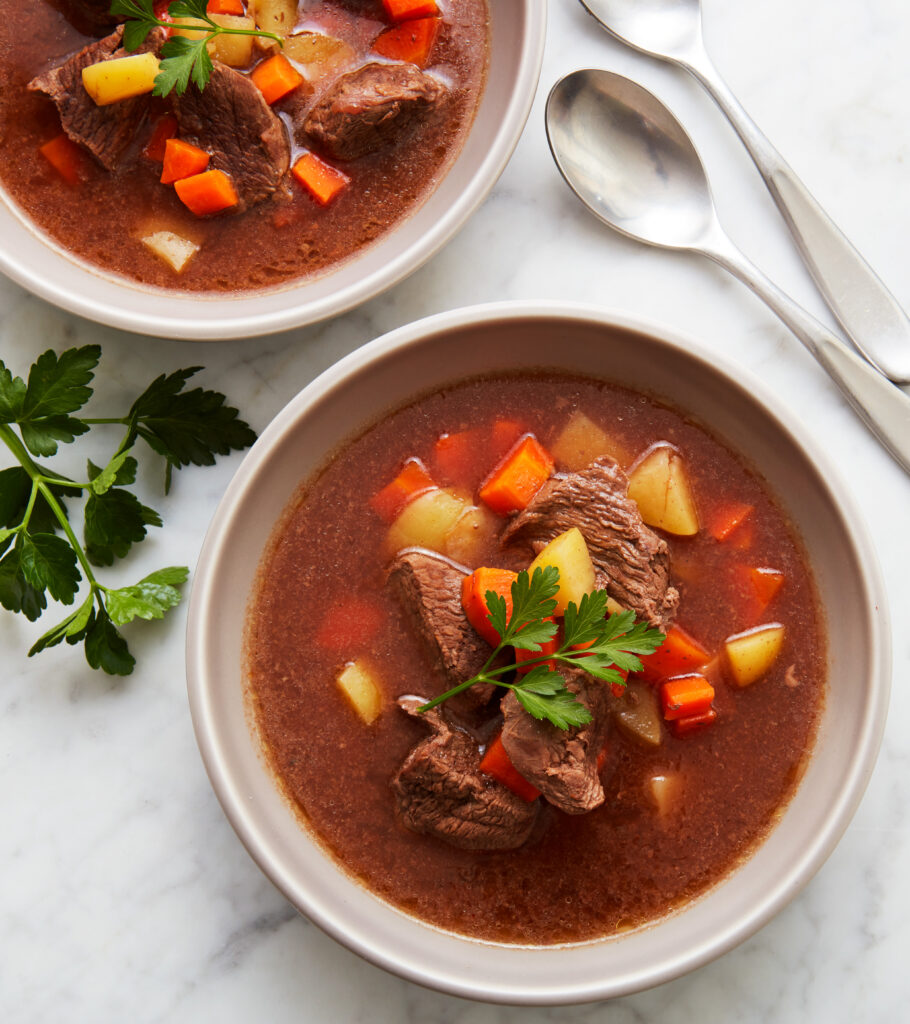 This recipe dates back at least 15 years when I was on a kick of using my newly gifted slow cooker. At the bottom of the box was a stapled book of recipes. There was one for beef stew, and I thought, "Why not?" Believe me—that recipe included more than six minutes of prep, for sure! I was chopping, slicing and dicing. I was searing and using multiple pans. The stew turned out great, but even in those bygone days before kids, I needed a stew recipe with less prep and one pan. And, voila! I created a way to make delicious beef stew without all the fuss.

HEARTY BEEF AND VEGGIE STEW
Ingredients
2½ pounds (1.1 kg) beef stew meat, cubed
2 tablespoons (30 ml) extra-virgin olive oil
2 large carrots, peeled and diced
3 medium-sized potatoes, diced
2 cups (480 ml) tomato juice
2 cups (480 ml) beef broth
Instructions
Preheat the oven to 300°F (149°C), and set a rack in the lower-middle position.
In a large Dutch oven, heat the olive oil over medium-high heat.
Add the cubed stew meat, and sear for about 3 minutes per side.
Remove the pot from the heat, and add the carrots, potatoes, tomato juice and beef broth. Stir everything together, and cover the pot.
Carefully put the pot in the oven, and cook for 2 hours or until the meat is very tender.
Remove from the oven, and season with salt to taste.
Alternatively, you can make this in the slow cooker: First, sear the meat in a pan with the olive oil per the instructions above. Then add the meat, carrots, potatoes, tomato juice and beef broth to the slow cooker, and cook on low for 6 hours or high for 3 hours, until the meat is very tender.
TIP: Carrots and potatoes are my favorite veggies in the stew, but you can use other variations, such as peas, canned tomatoes or any of your favorites.
Like it? Pin it!