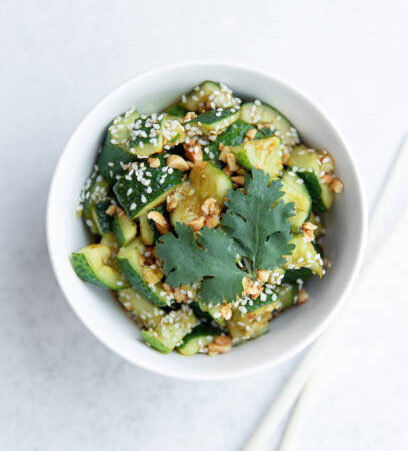 You will love the simplicity of this delicious dish, which started during my flourishing garden of fresh cucumbers. Usually, my tomatoes grow like crazy, but this year it was cucumbers. I had just picked about 25 of them and other than sharing them with friends and family, I wanted to come up with something different to make by using cucumbers as the main ingredient. So, I grabbed a few and this dish was created. It was definitely a hit and I have made it several times already in the past couple of weeks. You can make it spicier by adding in some dried chili peppers. Also, with just a few ingredients, it is a great last-minute side dish with a beautiful presentation. When serving it to company, I like to sprinkle it with fresh chopped flat-leaf parsley right before serving. Enjoy!

Sweet and Spicy Asian Cucumber Salad
Ingredients
3 Japanese, Persian, or small English Cucumbers
3 tablespoons rice or apple cider vinegar
1 tablespoon honey
2 teaspoons soy sauce, regular or gluten-free
2 teaspoons sesame oil
1 teaspoon chili sauce or sriracha
Instructions
Slice the cucumbers thin and throw all of the ingredients above into a large Ziploc bag.
Close and bag and shake to combine all ingredients and coat the cucumbers.
Place in the bag in the refrigerator and let the cucumbers sit in the marinade for at least 2 hours, up to overnight.
You can serve them as-is or sprinkle them with sesame seeds and/or parsley.
Like it? Pin it!