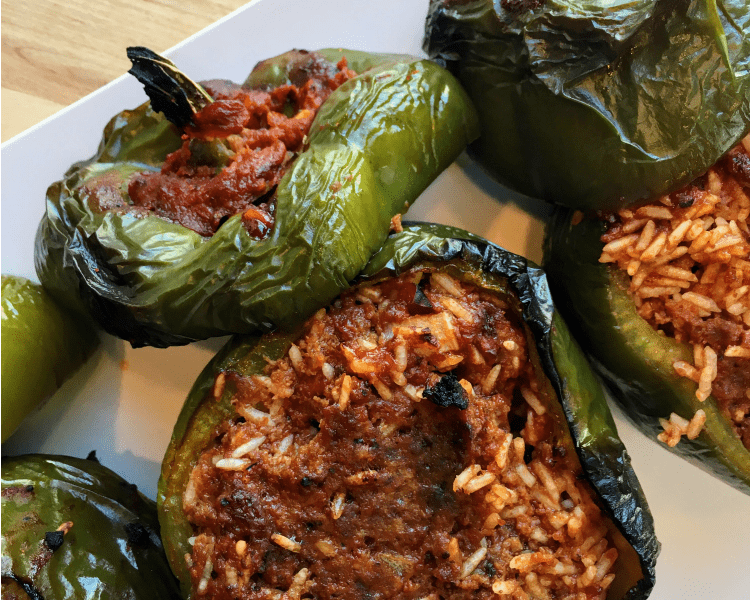 I have been making this dish for years and it's still a family favorite. You will definitely impress when you serve these stuffed peppers. They are so easy and delicious, it will seem like you spent hours in the kitchen making them. I like to add in some raisins, gives the dish a nice sweetness, but not necessary if you are not a fan of raisins in your food. Enjoy!

Deliciously Easy Stuffed Peppers
Ingredients
6 bell peppers
1 lb. ground beef
1 c. uncooked instant white rice
1 24 oz. jar tomato basil sauce
1 tbsp. salt
5 cloves of diced garlic
Instructions
Preheat the oven to 400 degrees.
In a large bowl, add rice, tomato sauce, salt and garlic. Mix together.
Add the ground beef, breaking up the meat and mixing it as you go so the meat is mixed well into the sauce.
Cut the tops off the peppers about 1 inch down. Scoop out the seeds and as much of the membrane inside as you can.
Place the peppers cut-side up in a baking dish just large enough to hold them upright.
Spoon the beef mixture into each pepper, filling it almost to the top.
Bake for 1 hour.

Tips:
You can add ¼ cup raisins to the mixture before stuffing the peppers.
If you want a bit of elegance, put the pepper tops on foil in the oven for the last 15 minutes of baking. Then put the tops back on the stuffed peppers when serving.