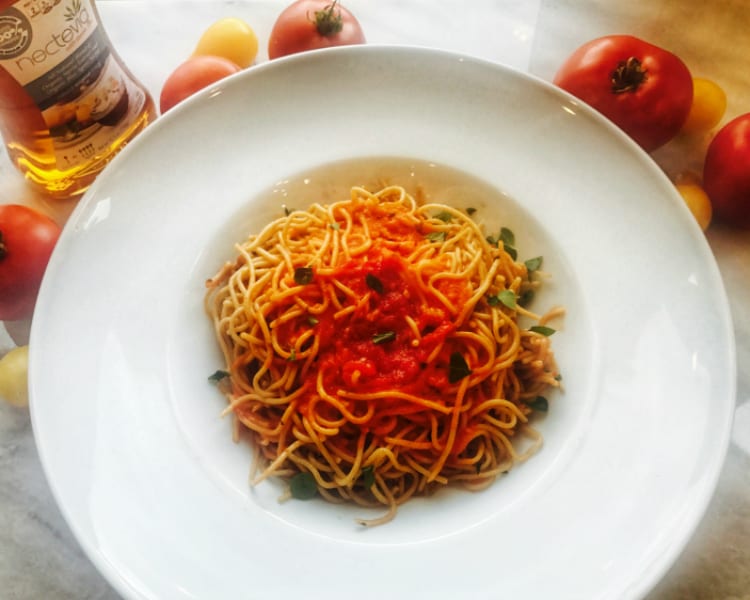 Like all busy moms, I love a good shortcut. However, shortcuts that fill my boys with unnecessary sugar are not worth the time saved. One surprising culprit of sugar is store-bought pasta sauce. Take a look at the label of your favorite and you will be shocked at how many grams of sugar are in one serving! Fortunately, I created a quick and tasty solution: an easy sauce that pairs fresh (or canned) tomatoes with Steviva Organic Infused Agave Nectar. Best of all, it's a bonafide Momma Chef recipe. Like all of my Momma Chef creations, it's quick, easy, and scrumptious — with only five ingredients, you can have this sauce in the pan in under five minutes! While it simmers, you can celebrate: your family will love this delicious sauce, and you will love serving a delicious and healthy meal with 75% fewer calories, carbs, and sugars.

Homemade and Healthy Pasta Sauce in a Snap
Ingredients
2 tablespoons olive oil
¼ cup diced onions (optional)
1 teaspoon dried or freshly chopped oregano
1 tsp nectevia
1 (28 ounce) can crushed tomatoes
Instructions
In a large skillet over medium heat, saute chopped onion in oil until tender, 2 minutes.
Stir in oregano, entire can of crushed tomatoes and nectevia.
Partially cover skillet and cook 15 to 20 minutes, until slightly thickened.
Season with salt to taste.
You can serve immediately or puree in blender for a smooth sauce (my kids like it this way).
You can get more information about 
Steviva
 by following their social media channels!
Love it? Pin it!