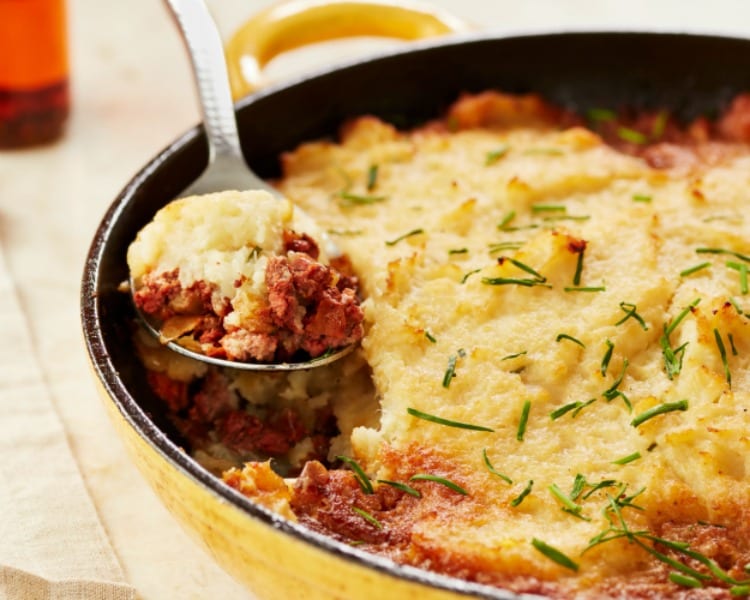 As you can imagine, this recipe was created when I was on one of my 10 different diets of the year and was on a cauliflower kick! This diet suggested cutting out the carbs of regular potatoes and substituting a healthier version with cauliflower. Little did I know how much I would love this dish with cauliflower and prefer it over the heavier mashed potatoes that are normally in a Shepherd's pie ! This is one of my favorite dishes to make!

Skillet Shepherd's Pie With Cauliflower Mash
Ingredients
1 lb. ground beef
1 12 oz. bag cauliflower florets
1 container Trader Joe's Mirepoix mix (contains chopped onions, carrots and celery)
1½ tbsp. salt
2 tbsp. chopped rosemary
1 tbsp. olive oil
Instructions
Preheat oven to 375 degrees.
Steam cauliflower florets in a pot on the stove or in the microwave.
While the cauliflower is steaming, in a separate oven-safe skillet heat 1 tbsp. olive oil over medium high heat.
Add in ground meat and cook 3 minutes, stirring occasionally.
Then add in Trader Joe's Mirepoix mix, 1 tbsp. salt and the chopped rosemary. Cook another 2 minutes, mixing everything together.
When cauliflower is soft, mash with a fork and add in ½ tbsp. salt.
Remove the meat from heat, spread the cauliflower mash over the mixture in the skillet and bake for 30 minutes.

Tips:
If you can't find the Mirepoix mix, you can use ½ onion, 3 carrots and 3 celery stalks – all chopped.
If you prefer mashed potatoes over cauliflower mash, substitute 3 cups mashed potatoes.
I normally like to make my dishes in one pot, but this one is so ridiculously yummy that it's worth using the extra pot! It is best made in a cast-iron skillet. If you don't already own one, it's worth buying. I got mine at a discount store like Home Goods, and I use it all the time.