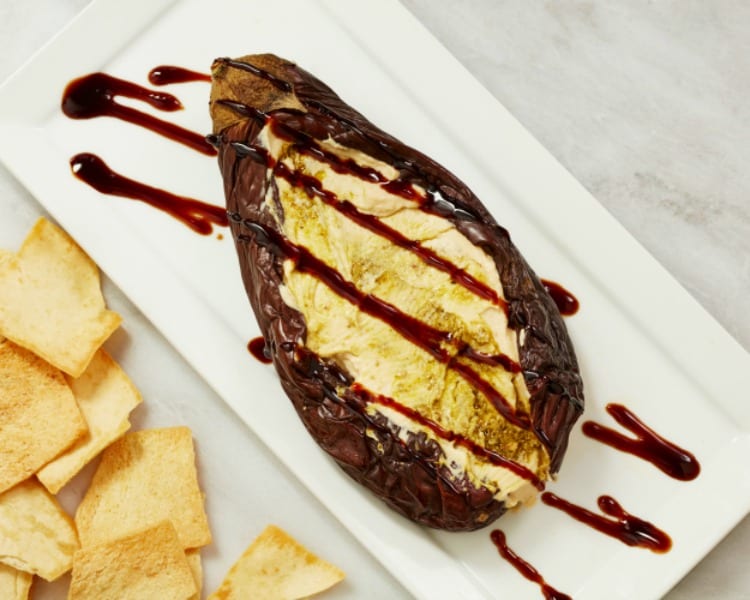 I first tasted roasted eggplant when I was traveling in another country and thought it was fabulous! I took notes on the different flavors because I wanted to create it once I got home. I even took photos of the beautiful presentation. After several attempts and the help of many taste-testers who were on the trip with me, I finally nailed it! It's really a very simple recipe that is delicious with an exquisite presentation! Enjoy!

Roasted Eggplant and Pesto Dip
Ingredients
1 large eggplant
2 tbsp. pesto
¼ cup hummus dip (any brand)
½ tsp. salt
Instructions
Adjust an oven rack to the middle position and preheat to 475 degrees.
Place eggplant on aluminum foil and prick in several places using a fork.
Bake eggplant 25 minutes on each side until eggplant is very soft, baking a total of 50 minutes.
Remove eggplant from the oven and let it cool on the foil for 10 minutes.
Move eggplant to a serving dish and slice it down the middle lengthwise, keeping the top intact.
Open the eggplant and sprinkle with salt.
Spread hummus over the flesh of the eggplant and pesto over the hummus.

Tips:
This is best enjoyed immediately after making it.
For an elegant look, chop up 2 tsp. fresh mint and sprinkle over the eggplant.
Serve with plain pita chips.
Like this recipe? Pin it!