Li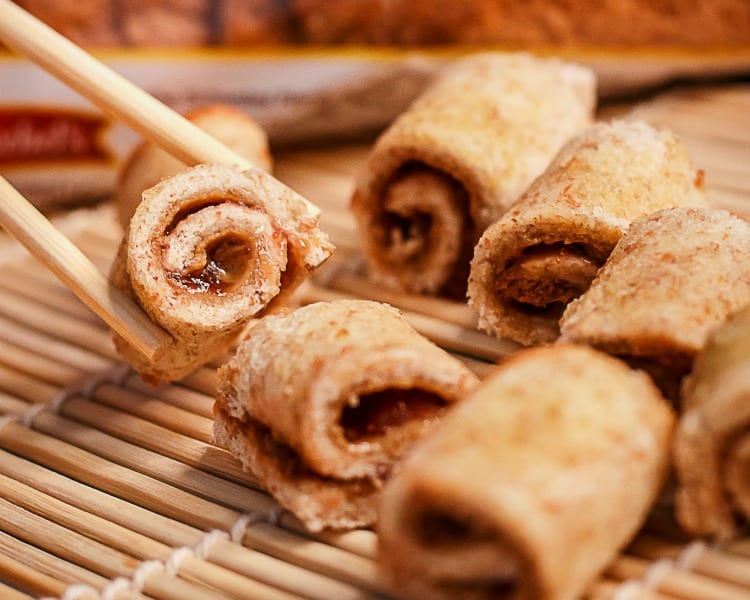 Are you looking for a fun and simple recipe to make for your kids' lunches? Look no further. Momma Chef's SB&J Sushi Rolls have become such a favorite at my son's school that one of the teachers sought me out at our last parent/teacher conference to thank me for the idea. She wanted to let me know that she made them for her daughter's birthday party, and they were a huge hit. I love it!
And what's not to love about SB&J Sushi Rolls?
To begin with, they are pretty darn cute. Who can resist a sweet little lunch roll-up? How fun it will be for your child to open her lunch bag and find "sushi rolls" instead of the expected, traditional sandwich.
Plus, sushi is super mainstream to the hip elementary school crowd. I've seen sushi t-shirts, stuffed animals, and memes aplenty. My friend's five-year old daughter's favorite toy is her Melissa and Doug sushi slicing wooden play set. Super adorable! One of the Littlest Pet Shop cats comes with teeny-tiny plastic sushi. Seriously. SB&J Sushi Rolls are going to rock your kids' cafeteria tablemates.
Next, they are SO EASY to prepare. Are they as easy as a sandwich? Of course not – but just about. This recipe can be easily completed under five minutes – including making an extra serving for yourself to nosh on after the kids head to school.
Finally, they are made with SunButter instead of peanut butter. If you aren't familiar with SunButter, let me fill you in on this great product. It is made from sunflower seeds, and it is absolutely nut-free. While I am fortunate that my own kids do not have nut allergies, many of their friends at school do.  Out of respect for those families, I like to promote yummy lunch recipes that respect their dietary restrictions. And SB&J Sushi Rolls perfectly fits the bill.
For some added pizzazz, pick up some extra sets of disposable chopsticks from your favorite Asian restaurant.  Include a pair for your kids to have authentic tableware as they enjoy this creative lunchtime offering.

SB&J Sushi Rolls
Ingredients
2 slices of your favorite Wheat Bread
2 teaspoons creamy SunButter
2 teaspoon strawberry or grape jelly (pick your favorite)
Instructions
Remove crusts from bread. Use a rolling pin to flatten two slices of bread.
Spread 1 teaspoon of SunButter to within ½-inch of edges.
Top SunButter with 1 teaspoon of strawberry or grape jelly.
Roll up each slice of bread into a tight spiral.
Refrigerate 15 minutes (optional)
Cut into 2" pieces and serve.
Voilà: the perfect lunch or afternoon snack!
Like it? Post it!