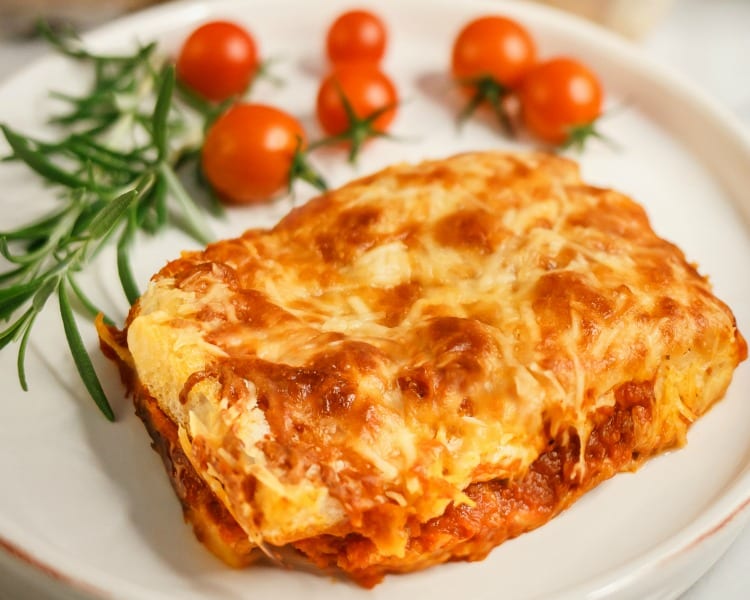 This is a sponsored conversation written by me on behalf of Schwebel's. The opinions and text are all mine.
Lasagna is hands-down a family favorite: my boys love it, my husband loves it, and I love it. Well … to be honest, I love eating it. Making it? Not so much. My family is busy in the fall. Really busy. As in – I could be a millionaire if I charged my kids to uber them to all of their practices and activities. So, I don't often have the luxury of the time it takes to boil the noodles before I assemble the ingredients.
What's a busy mom to do? Sure – I have made lasagnas on the weekend to freeze for future meals. However, even though I love cooking, I find myself asking, "Karen – is this the best use of this beautiful fall Saturday? Wouldn't you rather be out for a walk than cleaning tomato sauce off of your counters?" And don't get me started on the utter remorse in having to dispose of a homemade freezer-burned lasagna, found hidden behind the gargantuan Costco-sized box of waffles!
In desperation, I've even purchased pre-packaged frozen lasagna to satisfy my family's need of cheesy comfort food.  It's not my finest moment:  one look at the sodium, fat, and preservative content sends me running back to the kitchen determined to create a healthy, delicious, and QUICK lasagna.
With this Momma Chef recipe, you can enjoy the satisfaction of serving your family a delicious homemade Italian meal without the hassle of boiling pasta noodles. In fact, you won't need pasta at all, you just need bread, sauce and cheese layers, and pop the lasagna in the oven.
This recipe is best assembled with a quality bread. You can't go wrong with Schwebel's Freshly Baked Breads. I'm someone who values family above all, and I love that Schwebel's is an independent and family-owned wholesale bakery. Their products consistently reflect the excellent standards that I want to provide for my own family. And with my Momma Chef recipe promise – no more than six ingredients! – I want to make certain that each and every ingredient is of the highest quality. With Schwebel's wide variety of freshly-baked goods, I can find something delicious to enhance my culinary creations. For this recipe, your best choice is Schwebel's 'taliano Bread. Its zesty flavor will enhance the sauce perfectly, and when lightly toasted, it holds up perfectly for the lasagna layers.
I hope you enjoy making Grilled Cheese Lasagna! Even on a busy night, you will have the satisfaction of bringing Old World flavor to your family. You will enjoy the ease of making it, and your family will enjoy a delicious, nourishing, and hearty meal. Buon appetito!

No-Boil Grilled Cheese Lasagna
Ingredients
2- tablespoons of Olive oil or melted butter
About 10 slices of Schwebel's 'taliano bread – toasted with crusts removed
2 cups marinara sauce
1 cup (8 oz) of mozzarella cheese – shredded
1 cup Grated Romano cheese
Instructions
Preheat the oven to 350F.
Lightly toast the bread.
In a small bowl mix mozzarella and grated Romano cheese together, put aside.
Grease a 9x13" casserole dish with olive oil or butter.
Arrange 5 slices of bread slices in a tight-fitting layer.
Spread 1 cup marinara sauce over the bread.
Sprinkle with 1 cup of the cheese mixture.
Repeat steps 5-7 for one more layer of the bread, marinara and cheese mixture.
Bake this for 35-40 minutes. Let the dish rest for 10 – 15 minutes before serving.
Video Here:
Like it? Pin it!