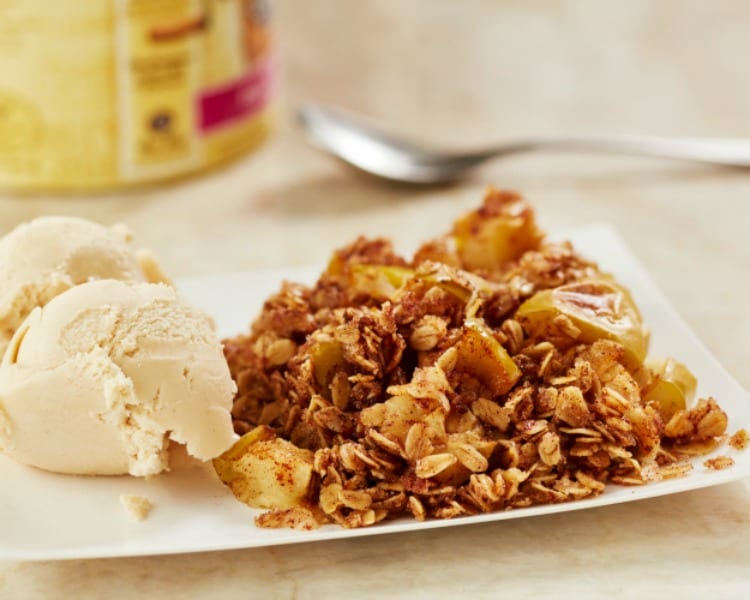 My oldest son gets all the credit for this dessert.  After a wonderful autumn day of apple picking in Chicago, my children requested many apple dishes, including an apple crumble. We quickly assembled the ingredients and popped the apple crumble in the oven. A wonderful smell permeated the house. It's worth making just for the aroma! The cobbler became an immediate family favorite. I also make this dish often to bring to friends. It is best served with regular or dairy-free vanilla ice cream. Even if you're not a fan of dairy-free, the apple cobbler is so delicious that you won't even notice the difference in the ice cream!

Apple Crumble
Ingredients
6 Granny Smith apples cut into 2" squares (peeling apples is optional)
1 cup old-fashioned oats
½ cup brown sugar
¾ cup whole-wheat flour
1 tbsp. cinnamon
½ cup avocado oil or melted coconut oil (or you can use any vegetable oil)
Instructions
Preheat oven to 375°F.
Mix oats, sugar, flour, cinnamon and oil in a bowl.
Spray 13x9 glass baking dish with nonstick spray.
Add sliced apples to bottom of the dish.
Sprinkle topping from the bowl over the apples.
Bake for 25 minutes.

Tips:
I save the time and do not peel the apples.
This is best served with vanilla ice-cream (dairy free also a good option).
Like this recipe? Pin it!