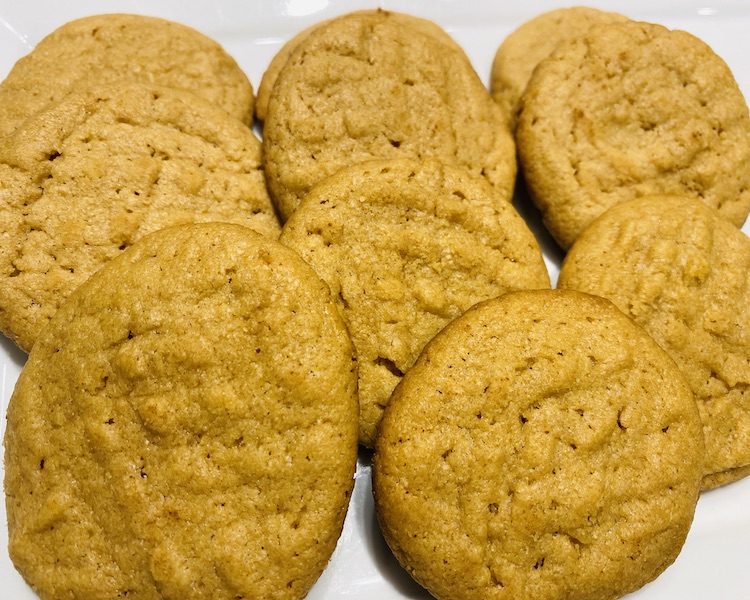 My 10-year-old (and TikTok) get most of the credit for this recipe. When your son comes in the kitchen asking to bake together and promising it won't make a mess, it's hard to say no. He had found a recipe on TikTok that he wanted to make, but after many times of us trying those 20-second recipes that claim to be "so easy", I was not too optimistic. We went over the recipe, made some additions and changes, and 15 minutes later, these amazing cookies came out of the oven. They were so good that not only did he eat 3 after they came out of the oven, I let him have them for breakfast this morning. They have peanut butter = protein, so I shouldn't feel too guilty, right?
This is a great recipe to make with your kids, they can even make it on their own after you go over the instructions. These were even better the next day after they crisped up a bit. Hope you enjoy these as much as we did!

4-Ingredient Peanut Butter Cookies
Ingredients
¾ cup peanut butter
¼ cup sugar
1 teaspoon vanilla
1 egg
Instructions
Preheat the oven to 350 degrees.
Mix all of the ingredients above in a small bowl until well combined.
Using a tablespoon, form dough into 1-inch balls with the palms of your hands. Place on parchment paper-lined baking sheet.
This recipe should make 12 cookies.
You can then use a fork to slightly press down the cookies in both directions to make a pretty design.
Place the baking sheet into the oven and bake for 8-10 minutes, making sure the bottoms do not burn.
Let cool and enjoy!
Like it? Pin it!