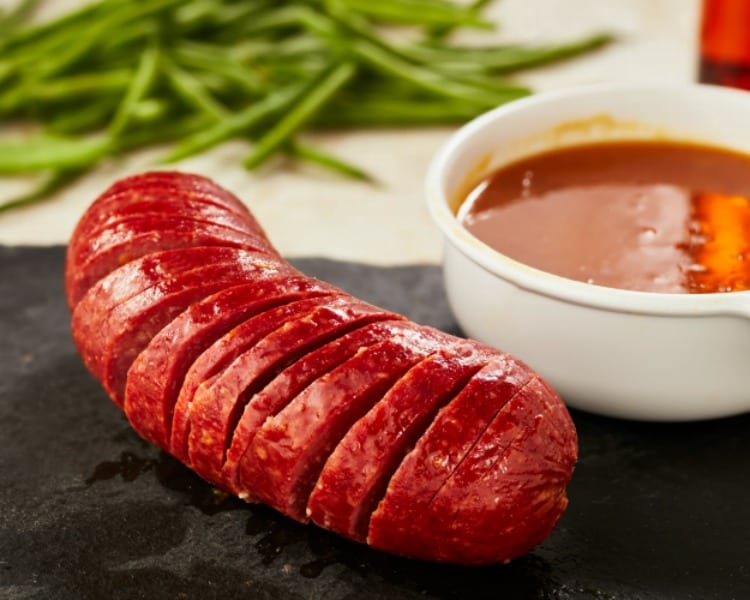 This recipe will be the hero of your appetizer table. The intensity of the mustard, the sweetness of the jam and the salty goodness of the salami create a tantalizing treat for your taste buds. If you're serving this for a larger crowd, I suggest making two salamis. You'll see how fast they go! Let the record show that I almost single-handedly devoured this ambrosial concoction the first time I had it at a friend's house. She intervened—perhaps in fear that I would lick the plate clean—and kindly shared this legendary recipe with me.
If you've never bought a whole salami before, don't fret. They are available in every major grocery store; just ask someone in the deli department to help you find them.
Best Baked Salami
Ingredients
whole salami – 2 lbs.
8 oz jar Grey Poupon mustard (gluten-free variety can be used)
12 oz bottle of apricot jam
Instructions
Preheat oven to 300 degrees.
Partially slice the salami into ¼-inch thick slices, making sure the cuts do not go all the way through.
Place the salami into a baking dish or aluminum pan
In a separate bowl, mix jam and mustard and spread ¼ cup of the mixture over the scored salami. Save the rest of the mixture to serve on the side as dipping sauce.
Bake salami for 45 minutes.

Tips:
When finished, I like to cut the salami into small squares and serve with toothpicks as an appetizer.
This can be made the day before and reheated at 300 degrees for 15 minutes.
Like this recipe? Pin it!