This post is sponsored by © The J.M. Smucker Company, all opinions are my own.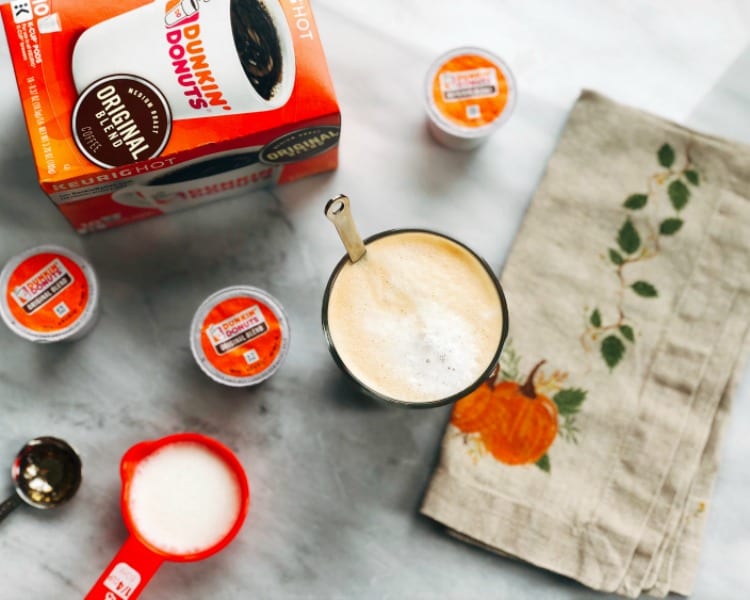 I have a love-hate relationship with fall. I love the change in the Chicago weather: brisk October mornings chase away August's oppressive humidity. I love fall fashion: cozy sweaters, fuzzy socks, and plaid flannel shirts. I love autumn's rich color palette: pale pastels making way for the warm hues of chocolate brown and burnt orange. I definitely love the food: a warm slice of a crumb-topped apple pie, a hearty bowl of chili, and roasted root vegetables from my garden.
But my favorite of all? The warm and wonderful array of autumn beverages. Few marketing traditions make me happier than the early advertisements that herald the arrival of fall flavors to my local coffee shops, grocery aisles, and bakeries. Delish.
Unfortunately, those very fall flavors are what bring me back to what I do NOT love about turning my calendar to September: my summer fitness plan starts to crash and burn. Completely.
Allow me to explain. In the summer, I am naturally at my fitness best. My kids and I walk to the local park nearly every day. On weekends, we head to a local forest preserve to ride bikes. We make the most of our pool passes – and my kids are old enough now that I can even indulge in a few laps during the adult swim. This menu of summer activities keeps my body healthy and happy.
But once Labor Day rolls around, all bets are off. Autumn clearly tricks my metabolism into thinking I have become a close cousin of the brown bear, preparing itself for hibernation.
Those June walks to the park are replaced by October carpools to soccer practice. The time for family bike rides is devoured by third-grade math homework. And the pool? It has been closed for weeks as all of the lifeguards have headed back to college. My body and brain beg to begin the process of storing up fat to endure a long winter. Reading a book under a quilt with a steaming cup of deliciousness sounds far more appealing than burning calories on the elliptical. After all (my inner bear argues), I won't need to think about fitting into my bathing suit for another nine months or so.
It's this autumn pull toward inertia that inspired me to turn to a ketogenic food plan. By balancing my intake of proteins and fats while limiting carbohydrates, a ketogenic diet targets and metabolizes my unwanted belly fat and turns it to fuel for energy.
My love of delicious fall beverages inspired this fabulous coffee recipe: Keto-friendly Hazelnut Latte using Dunkin Donuts Original K-Cups.
I love how easy this recipe is: just grab a box of Dunkin Donuts Original K-Cups and turn on your Keurig coffee maker. In a matter of five minutes, you can enjoy a rich Keto-friendly Hazelnut Latte in the convenience of your own home. While the coffee maker is heating up, simply heat some whole milk on the stove or microwave.
And what makes this recipe even easier, I can grab all of my ingredients at my local Walmart, the milk, sugar-free hazelnut syrup and even most varieties of Dunkin Donuts K-Cups!
Don't be tricked into thinking that skim milk is a better choice in this recipe. Studies have shown that people who eat more high-fat dairy products are more satisfied than those who choose low-fat or no-fat options. The whole milk in this latte will so satisfy you with its rich and creamy flavor that you will not have the need to turn to additional calories from sugary foods to be satisfied. For those who need dairy free, an easy substitute is plain Almond or Coconut Milk.
Hazelnut Classic syrup, sugar-free, will provide just the right amount of sweetness without increasing your carbohydrate intake.
As you can see, this recipe is so simple, you can quickly – and affordably – enjoy a cup of fall bliss in the convenience of your own home. Invite the neighbors over for a cup on your porch as you watch the younger kids play in the leaves while your teens play a game of touch football.
With recipes like these, it's easy to say goodbye to my love-hate relationship to fall. Like me, you will love-love this yummy and healthy Keto-friendly hazelnut coffee latte.

Keto-friendly Hazelnut Latte
Ingredients
1 Dunkin Donuts Original K-Cup
¼ cup warm whole milk or almond milk
1 tsp sugar-free hazelnut syrup
Instructions
Brew a 6 oz cup of the Dunkin Donuts K-Cup coffee.
Pour in the warm milk and sugar-free syrup
Stir and enjoy!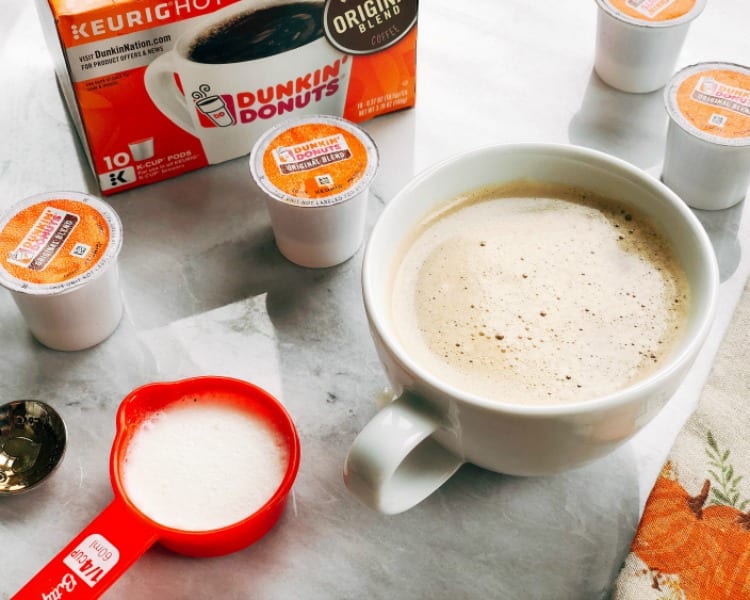 Like it? Pin it!