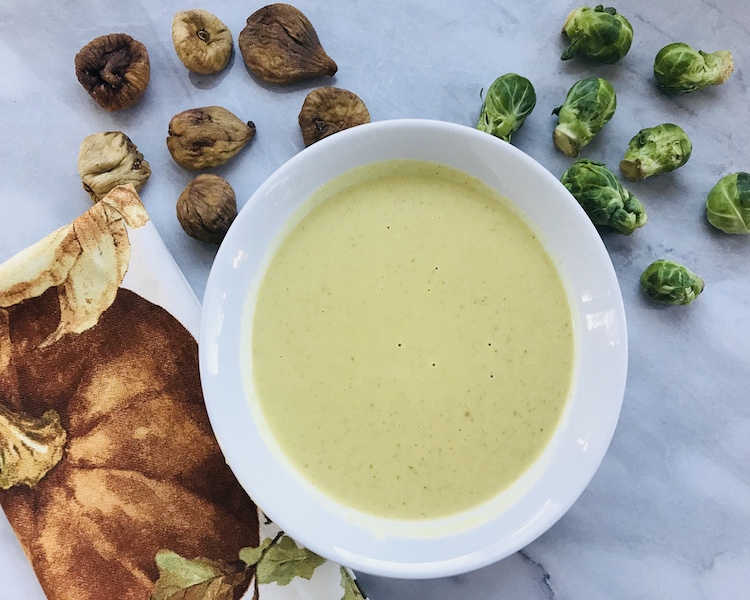 My boys love, love, love soup. It's an easy and creamy way to sneak some extra veggies in their diet, too. With a loaf of crusty French bread or croutons, they will demolish crocks of soups and stews like an NFL football team. In all honesty, my youngest one does not know there are Brussels sprouts in this soup, we call it "Veggie Soup". Whatever it takes, right? But, buyer beware, if you have not made Brussels sprouts before, there can be a strong smell that takes some getting used to, it's worth it for us since my whole family loves this soup. Enjoy!

Creamy Brussels Sprouts and Fig Soup
Ingredients
1 pound Brussels sprouts cut in half
2 tbsp. olive oil
½ cup diced figs (stems trimmed off)
1 cup chopped yellow onion
5 cups (40 oz.) vegetable or chicken broth
1 tsp. salt, plus more to taste
Instructions
In a large saucepan, sauté the onions in olive oil over medium heat for 3 minutes.
Add in the Brussels sprouts and figs and cook for another 2 minutes.
Add the vegetable broth, salt, and mix.
Cover partially and cook over medium heat for 45 minutes until Brussels sprouts are very tender.
Puree soup in a blender, food processor, or soup emersion in batches until smooth.
This recipe can be made in the slow-cooker/crock pot, just follow the first step of sauteeing the onions then put everything in the pot and cook on low for 6 hours.
Salt to taste.

Tips:
You can find pre-cut Brussels sprouts and onions in almost every grocery store.
If you don't like the taste of figs, you can omit them from this recipe.
Make sure you blend this soup so the kiddos don't see the hidden veggies!
A great way to get kids to try this soup is to let them add small croutons.
I like to make this soup the night before I am serving it. It can stay in the refrigerator for up to 5 days.
Like it? Pin it!