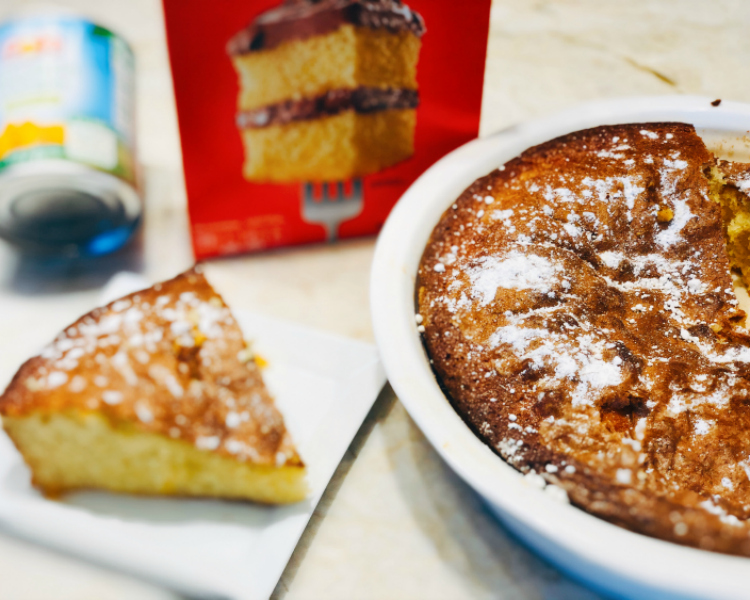 My 8-year-old gets all of the credit for this recipe. Since we are all stuck at home, what's a food blogger to do — cook! My youngest likes to swap out his "independent learning time" in the morning for some baking time with me and I am more than happy to oblige.
Yesterday we made brownies, the day before banana muffins, somehow Nutella does it make its way into every snack. Today my son asked to make something with mandarin oranges and so we decided to make a mandarin orange cake. This cake took about 4 minutes to prep, the oven was not even at 350 degrees by the time the cake was ready to bake.
This is definitely a recipe we will be making more often! The cake turned out delicious and my house smelled amazing! It was moist, flavorful and such a fun activity to make with your kids.

Scrumptious Mandarin Orange Cake
Ingredients
1 (15-18 ounce) package of yellow cake mix
3 eggs
½ cup avocado or canola oil
1 (11-ounce) can mandarin oranges, undrained
1 teaspoon vanilla extract
Instructions
Preheat oven to 350 degrees F.
Spray a 9x13 inch pan or a 10-inch bundt cake pan with cooking spray.
In a large bowl, combine cake mix, eggs, oil, vanilla, and beat until smooth (about 2 minutes). Add in the mandarin oranges with juice and lightly fold into the mixture until well blended.
Pour batter into greased pan.
Bake in the preheated oven for 35 to 40 minutes, or until a toothpick inserted into the center of the cake comes out clean. Allow to cool.
Like it? Pin it!