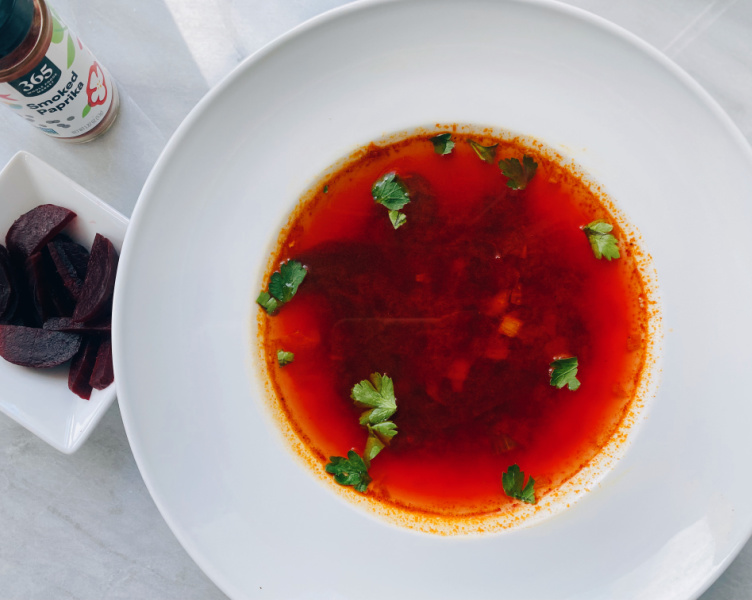 Winter hasn't truly arrived until my family, and I have enjoyed our first bowls of this beet soup. That's right. That's what I said: Beet Soup. Friends don't roll your eyes and turn the page. Put down that coffee and give yourself five minutes to make this unbelievably easy-to-prepare soup. Both you and your family will be so thankful that you did. All three of my boys and my husband absolutely adore it. The "hardest" steps in this recipe aren't hard at all: (1) Thanks to Whole Foods, Costco, Trader Joe's (and probably your local grocery chain), there are pre-cooked beets. Check! (2) You have to cut an onion. Easy (a little secret, I buy the container of fresh pre-cut onions as well)! (3) You have to puree batches of the prepared soup in a blender (optional but recommended). No problem! And do you know who likes to push buttons on blenders? Kids! Make them part of the process, and they'll already be sold on tasting the creation they helped to make. Truly, the most difficult step of all will be waiting to try your first delicious bowl.
Make sure to check out my tips on the additions in this recipe below that can be added to the soup. If I am making this as a side dish, I will make it as a vegetarian soup and love to puree it before serving. On a cold night when my family is craving a warm hearty soup, I will add meat to the soup, follow the instructions below.
On a side note, as you may know, I'm excited to be one of Google's paid early testers for their Thank with Google pilot program. Thank with Google is an experimental feature that allows you to purchase a virtual sticker and directly show your appreciation for content on my website. As a loyal supporter, you can now feel more connected and engaged because you have the ability to express yourself and share what my work means to you.
I have loved seeing the variety of stickers and messages my readers have selected to date. And remember, every time you send a paid sticker, you can add a personal message which I enjoy receiving. For me, these virtual stickers translate into direct revenue to support the work that goes into the content that you are enjoying on my blog.
You can find the Thank with Google feature in multiple places on my site, including the top and floating at the bottom of each blog post. If you try it out, let me know what you think! Thanks as always for your support.

Vegetarian Red Beet Soup
Ingredients
¼ cup olive oil
1 medium yellow onion, chopped
1 (48-ounce) box of vegetable broth
¼ cup tomato paste
1 (8-ounce) box of cooked red beets, diced
1 tablespoon smoky paprika
Instructions
In a large soup pot, sauté the onion in olive oil over medium heat for 3 minutes.
Add in tomato paste and mix well.
Pour in the vegetable broth, beets and paprika, mix well.
Partially cover and cook for 30 minutes.
Salt to taste.
Remove from the heat and serve as it, or you can puree the soup in a blender, food processor or soup immersion until smooth.
You can also make this in the crockpot/slow cooker on high for 4 hours.

Tips:
My favorite beets to use in this recipe are by the brand, "Organic Love Beets". You can find these in the refrigerated section of most grocery stores.
Once the soup is pureed, you can mix in some toppings such as sour cream, diced parsley, and coconut milk.
If you want to add meat to this recipe, when you are cooking the onions, add in 1 pound diced stew meat, add in the rest of the ingredients, cover the pot and cook in the oven at 300 degrees for 3 hours. Do not puree this soup if you are adding in the beef.
My personal favorite is to puree the soup and then mix in some low-fat sour cream.
Like it? Pin it!