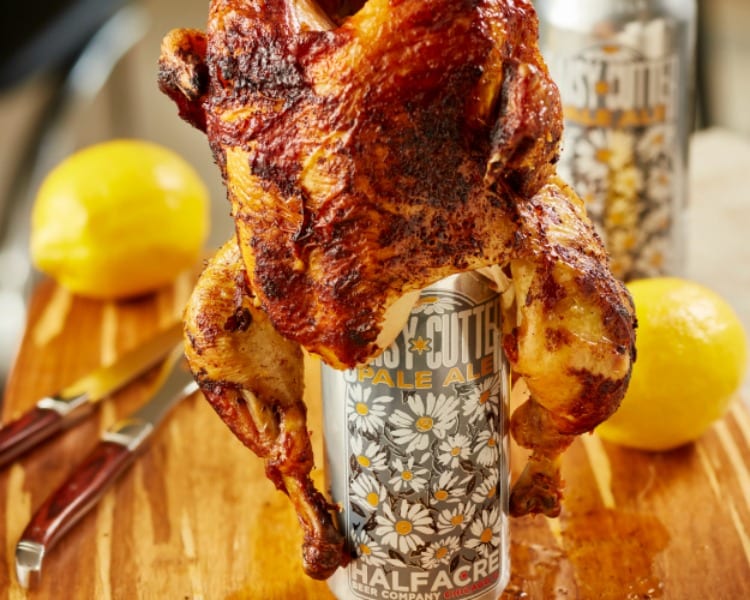 I think this recipe speaks for itself. The first time I made it, I did not stand the can up properly and opened the oven to find the chicken on its side cooking in a pile of beer. Ha! But it still tasted great! Just make sure yours is stable and check on the chicken after putting it in the oven. The beer evaporates into the chicken while it's cooking, making it unbelievably moist and tasty. Enjoy!

Beer-Can Chicken
Ingredients
1 whole chicken, approx. 4 lbs.
2 tbsp. Lawry's Seasoning Salt
2 tbsp. McCormick Rotisserie Chicken Seasoning
1 tbsp. olive oil
1 can of beer (if making gluten-free use a GF beer)
Instructions
Preheat oven to 400 degrees.
Rub chicken inside and out with oil, seasoning salt and Rotisserie seasoning.
Pour ½ of the beer can into the bottom of a baking pan.
Place the open beer can with the remaining beer in the center of the baking pan and carefully place the chicken over the beer can with the legs on the bottom. (See photo for correct positioning.)
Bake uncovered for 1 hour 30 minutes, making the sure chicken is still standing up over the beer can.
Use the sauce from the bottom of the pan for the gravy.

Tips:
I like to bake the chicken in Costco's small disposable pan.
If you use a larger chicken, make sure to adjust the cooking time. On average, allow 20 minutes of cooking time per pound.
Like this recipe? Pin it!