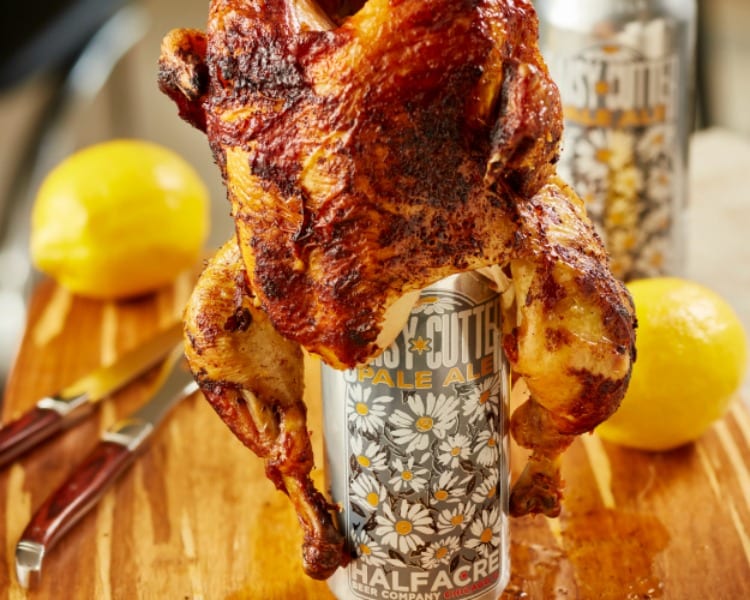 I live in a house chock-full of boys and have become well-versed in typical boy humor. Belching? They'll definitely think that's funny. Flatulence? Hysterical. I knew that all I had to do was tell my sons the alternate name of this popular dish—"Beer Butt Chicken"—and they'd immediately be fans.
The first time I made this, I failed to secure the can properly, and my poor chicken toppled over, humiliated in a puddle of beer. Fortunately, it still tasted great. I've learned to double-check the stability of the can and to give a mid-bake oven check to make sure the chicken doesn't get tipsy. If you don't like the taste of beer, no worries. The beer evaporates into the cavity of the chicken while it's cooking, making the chicken unbelievably moist and flavorful.
Oh-So Simple Beer-Can Chicken
Oh-So Simple Beer-Can Chicken Author: Momma Chef Prep time: 5 mins Cook time: 1 hour 15 mins Total time: 1 hour 20 mins Serves: 4-6
Ingredients
1 whole chicken, about 4 pounds
1 tablespoon extra-virgin olive oil
1 tablespoon seasoning salt
2 tablespoons rotisserie chicken seasoning, such as McCormick
1 (12-ounce) can of beer (if making gluten free, use a gluten-free beer)
Instructions
Preheat the oven to 375°F.
Place the rack in the lowest position in the oven.
Rub the chicken inside and out with the oil, seasoning salt and rotisserie seasoning.
Pour half of the beer into the bottom of a deep baking dish.
Place the open beer can with the remaining beer in the center of the baking dish, and carefully place the chicken over the beer can with the legs on the bottom. (See photo for correct positioning.)
Bake uncovered for 1 hour 30 minutes, checking occasionally that the chicken is still standing up over the beer can.
Like this recipe? Pin it!