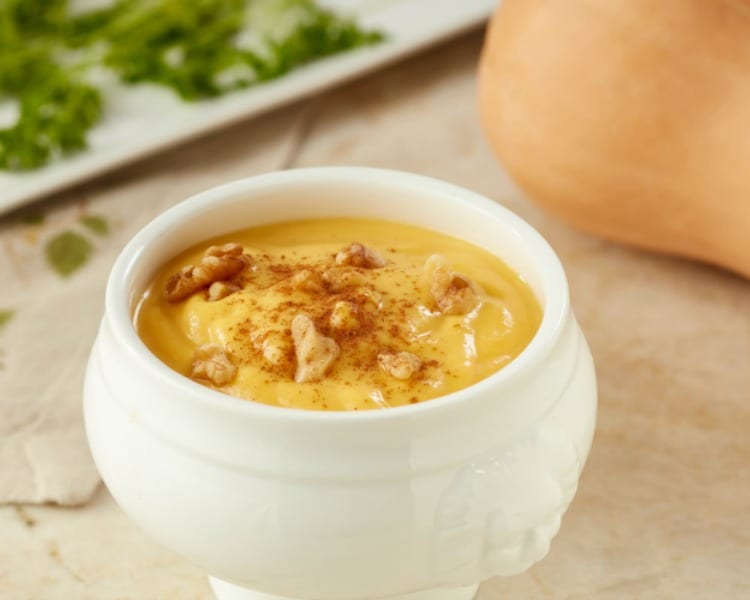 Butternut Squash Soup
aka "
The Sweet Soup"
Yes, I said it. Butternut Squash Soup. Don't turn the page! This soup is a fall favorite in my house, AND Costco (and probably your local grocery chain) sells pre-cut squash. You've got this! And, ummm, not to brag – but this is hands-down the best butternut squash soup you will ever taste! Not to mention how unbelievably easy it is to prepare. I use cream cheese to give the soup a rich texture. But if you want to make it dairy-free, you can put in ½ cup of your favorite milk substitute and the soup will still be delish!

Simple and Delicious Butternut Squash Soup
Ingredients
32 oz. cubed butternut squash
1 tbsp. olive oil
1 box (32 oz.) vegetable broth
1 chopped onion
⅓ cup brown sugar
8 oz. low-fat cream cheese
Instructions
In a large saucepan, sauté the onion in olive oil over medium heat for 3 minutes.
Add cubed butternut squash, mix and cook another 2 minutes.
Add the vegetable broth and 8 oz. water.
Cover partially and cook over medium heat for 25 minutes until butternut squash very tender.
Puree soup, cream cheese and brown sugar in a blender, food processor or soup emersion in batches until smooth.

Tips:
I get my cubed butternut squash from Costco. It comes in a 32 oz. container.
When serving, I like to sprinkle the soup with cinnamon and chopped pecans.
Like this recipe? Pin it!