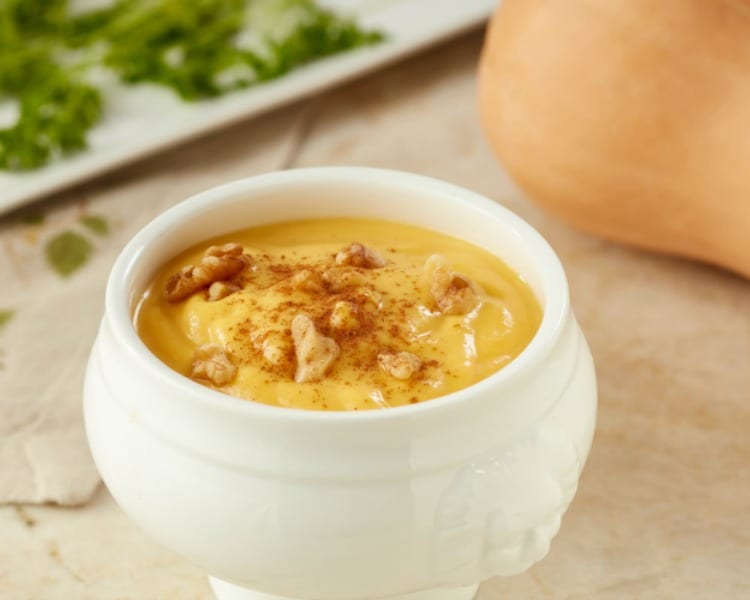 Fall hasn't truly arrived until my family and I have enjoyed our first bowls of butternut
squash soup. That's right. That's what I said: squash soup. Friends, don't roll your eyes
and turn the page. Put down that pumpkin-spiced latte and give yourself 5 minutes
to make this unbelievably easy-to-prepare soup. Both you and your family will be so
thankful that you did. The "hardest" steps in this recipe aren't hard at all: 1) Thanks to
Costco, Trader Joe's and probably your local grocery, there's precut squash. Check!
2) You have to cut an onion. Easy! 3) You have to puree batches of the prepared soup
in a blender. No problem! And do you know who likes to push buttons on blenders?
Kids! Make them part of the process, and they'll already be sold on tasting the
creation they helped to make.
Simple and Delicious Butternut Squash Soup
Ingredients
32 oz. cubed butternut squash
1 tbsp. olive oil
1 box (32 oz.) vegetable broth
1 chopped onion
⅓ cup brown sugar
8 oz. low-fat cream cheese
Instructions
In a large saucepan, sauté the onion in olive oil over medium heat for 3 minutes.
Add cubed butternut squash, mix and cook another 2 minutes.
Add the vegetable broth and 8 oz. water.
Cover partially and cook over medium heat for 25 minutes until butternut squash very tender.
Puree soup, cream cheese and brown sugar in a blender, food processor or soup emersion in batches until smooth.
This can be made in the slow cooker as well, just sautee the onion and then put all of the other ingredients together in the slow cooker and cook on low for 3 hours, until the squash is very tender

Tips:
I get my cubed butternut squash from Costco. It comes in a 32 oz. container.
When serving, I like to sprinkle the soup with cinnamon and chopped pecans.
Like this recipe? Pin it!