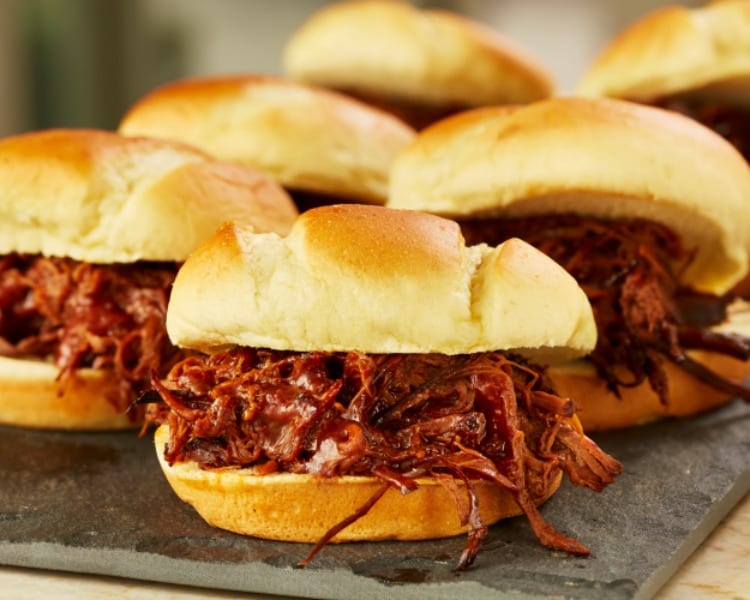 Several years ago on a trip to the Smoky Mountains, we had our first smoked brisket sandwich. My husband fell in love with the dish! Since I did not see purchasing a smoker in the near future, I had to figure out an easy way to replicate this brisket. I discovered liquid smoke and after several tries, I finally did it! This has been taste-tested on family and friends and is a huge hit. You will definitely impress with this dish!

Smoked BBQ Brisket Sliders
Prepare to impress with these easy and delicious Smoked BBQ Brisket Sliders. This dish is sure to be a hit with your family and guests.
Ingredients
A first-cut cut brisket, approx. 3 lbs.
1 tbsp. McCormick Grill Mates Applewood Rub
2 tsp. Colgin All Natural Hickory Liquid Smoke
½ cup Wishbone Light Italian dressing
1 cup Sweet Baby Ray's BBQ sauce
½ bottle beer (any brand)
Instructions
Place brisket in slow cooker.
Rub with Grill Mates Applewood Rub, then pour Liquid Smoke, Italian dressing, BBQ sauce and beer over the brisket.
Cover and cook on low for 8 hours.
Once finished, take two forks and shred the beef.
Serve on Hawaiian rolls or brioche rolls.

Tips:
You can top the brisket off with your favorite slice of cheese or coleslaw.
This can be made the day before and reheated in a pan until warm.
Make sure the rolls are fresh!
Like this recipe? Pin it!