This recipe should really be called "Best Last-Minute Dessert" Or maybe "Insert Holiday Here" Bark. or "I Bet You Can Make This Right Now" Chocolate Bark because the odds are you already have on hand what you need to stir up this batch of yumminess. The only must-have ingredient is a partial bag of chocolate chips- that's it! From there, you are limited only by what's in your cupboards. If you're making it on the fly and are woefully lacking traditional toppings, try cereal or the broken ends of the pretzels in the bottom of the family-size bag.
I especially love to make this chocolate bark in October with some fall-colored M&M's and candy corn. Crushed candy canes make a wonderful winter treat – you can break it up into pieces and put it on your cookie trays.
No matter the season, this is one of the first desserts you can make with the littlest of kids. You – of course – will be in charge of melting and spreading the heated chocolate, and they'll be in charge of dropping in their favorite mix-ins. If you're like me – multiple kids with multiple palates – you can make smaller pans of chocolate bark, and each one of your little goblins can customize their toppings.
Make this bark anytime and anyway! I myself am partial to marshmallows and raisins. This recipe also makes a sweet treat for your child to make and take as a gift to a special teacher. You could always tape a coffee card on top, too!
On top of sharing this fun recipe- I'm excited to be one of Google's paid early testers for their Thank with Google pilot program. This program is an experimental feature that allows you to purchase a virtual sticker and directly show your appreciation for any Momma Chef recipes that you make! I have always made my recipes "ad-free" so you are able to scroll and quickly get to the recipe, I mean who has time for pages of ads! You can finally express yourself and share what my work means to you by sending me a sticker! And the stickers are just so cute and fun and you get to choose the one you want to send me. Every time you send a paid sticker you can add a personal message that I get to read. And for me, these virtual stickers can translate into direct revenue to support the work and all of my recipe development that goes into the content that you are enjoying on my blog.
You can find the Thank with Google feature on the bottom of this recipe and in my sidebar. If you test it out let me know what you think! Thanks as always for your support. Happy Holidays!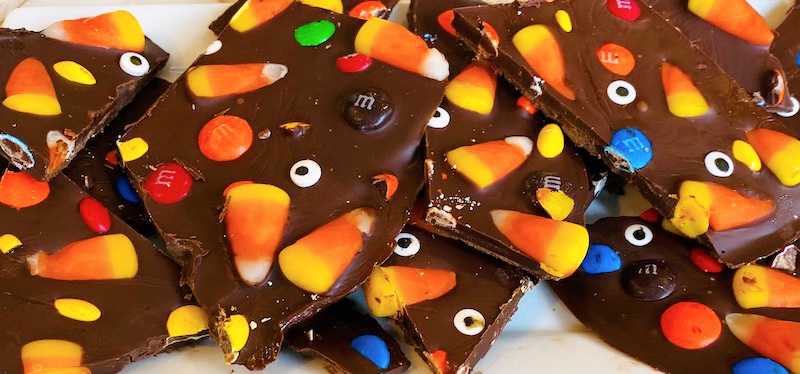 FESTIVE HOLIDAY CHOCOLATE BARK
Ingredients
1 cup (8-ounces) semi-sweet chocolate chips
20 Candy Corn
1 small bag of M&M's (I like to use the 1.69-ounce bag)
Instructions
Spray a small disposable pan (9X13) with Pam.
Pour chocolate chips into a microwave-safe bowl and microwave on high for 1 minute and 30 seconds.
Mix and microwave for another 1 minute until all chocolate is melted.
Spread mixture into the greased pan and drop in Candy corn and M&M's.
Refrigerate at least 30 minutes until set and then break up the chocolate bark and enjoy!

Tips:
Some other fun variations are:
Rice Krispies and a pinch of sea salt.
Salted pretzel pieces and mini M&M's.
Marshmallow and raisins.
A couple of handfuls of crushed candy canes.
The combinations are endless...
Like It? Pin It!