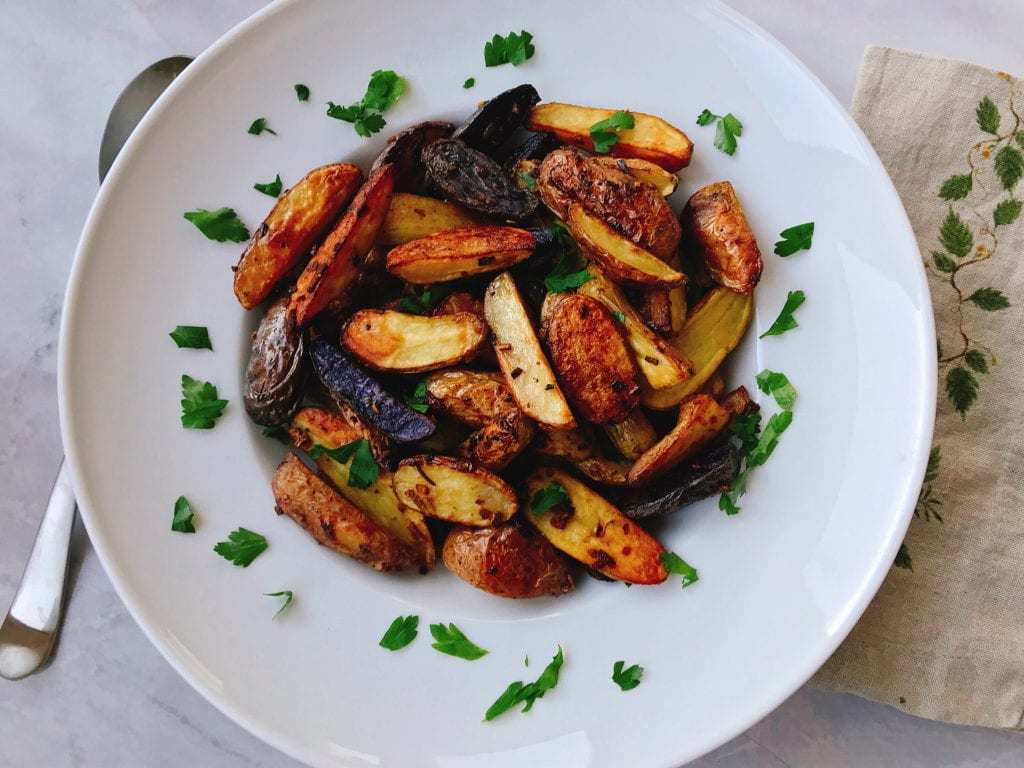 You know I love to find or create good recipes. You may also know that I love to find and celebrate good people. Today I want to share a recipe with you that has both: it's an amazing and simple recipe that came from an amazing and special person who recently passed.
Etta shared this recipe with me a few years ago, and I have made it at least a hundred times since. I know you will enjoy sharing it with your friends and family as well. Like all of Momma Chef creations, it's quick, easy, and scrumptious — with only three ingredients, you can get this in the oven in under 5 minutes.
I first met Etta in the spring of 2000. My boyfriend – now husband – and I were newly dating, and in that wonderful but horribly awkward period of meeting each other's friends and family. I remember how nervous my 23-year old self was, heading to dinner to meet my future sister-in-law, her husband and his extended family for the very first time. Lucky for me, Etta was the hostess that night. As I rang her doorbell, my heart was palpitating knowing that the prime attraction for the dinner menu would be checking out Izzy's new girlfriend (that was ME!). However, from the moment Etta opened her door, she made me feel comfortable, calming my anxiety with her warmth and charm. Even though she wasn't even related to my husband (she was family to his brother-in-law), she made me feel like she was on my side. Etta was one of those rare people who open their heart when they open their home.
Since that fateful April day so many years ago, little did I know how many more times I would be blessed to spend time with Etta. Our families have truly become intertwined: her daughter is one of my closer-than-a-sister friends, her grandchildren are my boys' best and closest friends, calling each other "cousins," and her son and my husband are great friends. We have spent countless family dinners, holidays, and vacations together. And no matter where we were, or what we were doing, Etta always pulled me aside and looked in my eyes, smiled, and said, "You know, Karen, you guys are family to us."
Knowing my love of cooking and hosting, Etta gave me the most thoughtful gifts: beautiful serving pieces that I adore. I treasure them all the more now, as they help me remember her kind and generous spirit.
At the funeral, her family and friends spoke of her love, her care, her warmth, and her unwavering dedication to her family. I remembered how she had this special charisma that made you want to seek out her opinions again and again. How unfair that she would be taken from this life so soon. Etta's family – whether by DNA or by friendship – will continue to share her boundless love and the memory of a life well-lived with others.
Knowing Etta is one of the most cherished gifts that I received from marrying my husband.

Etta's Simply Delicious Roasted Potatoes
Ingredients
3 pounds baby yellow, baby red or baby purple potatoes
¼ cup olive oil
3 tablespoons onion soup mix
Instructions
Preheat oven to 400 degrees F.
Cut the potatoes in half or quarters.
Pour olive oil, onion soup mix and potatoes into a gallon size Ziploc bag. Seal the bag and shake all ingredient to mix.
Spread potatoes on a foil-lined baking sheet or large disposable pan.
Roast in the oven for 25 minutes until brown.
Flip potatoes once while baking to ensure even cooking.
Like it? Pin it!