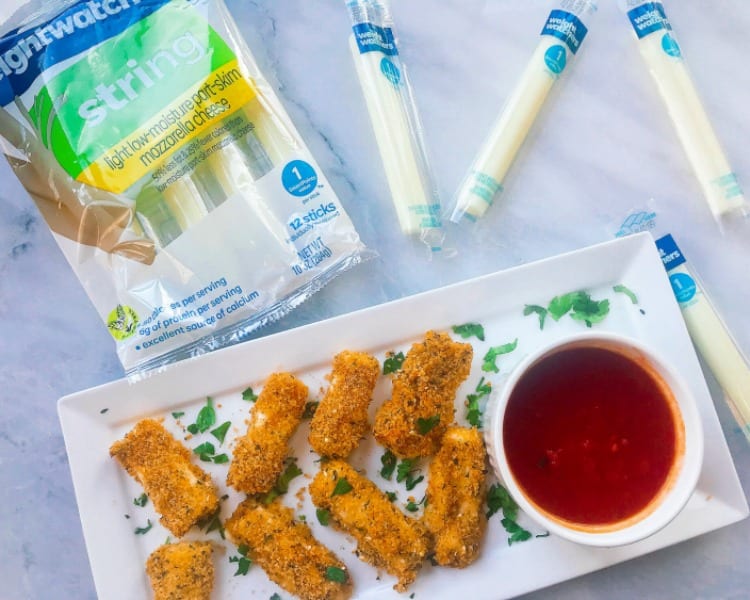 It's cold here in Chicagoland.  In mid-January, the temps are plummeting, the wind is howling, and the snow is blowing —only the brave want to venture outside. For my family, the onset of winter weather ups our craving for comfort food. The juicy and refreshing fruit that we relished in June has been replaced by our need for ooey, gooey deliciousness. Cue the mozzarella sticks. My boys' eyes light up when they come in from the cold and find a tray waiting for them, hot out of the oven. And now that my boys are older, the recipe is easy enough that they can make a second tray on their own! It's a perfect after-school snack – filled with protein, calcium, and cheese-y goodness. If you wish, you can use a low-fat mozzarella stick to cut the calories.
Healthy Baked Mozzarella Sticks
Ingredients
8 sticks String Cheese
½ cup Italian seasoned breadcrumbs (you can also use GF Panko)
1 egg, beaten
1 tablespoon milk
Instructions
Cut string cheese in half to give you 16 pieces and place in the freezer until cheese is frozen, at least 30 minutes.
When ready to bake, preheat oven to 400° F.
In a large bowl, mix together eggs and milk. Set aside.
In a large Ziploc bag, add the breadcrumbs and salt.
Dip each string cheese in the egg/milk mixture and put them in the Ziploc bag. Shake to coat all sides of the cheese.
Line a baking sheet with aluminum foil and lightly spray with cooking spray. Arrange the cheese in a single layer on the baking sheet and bake for 7 minutes.

Tips:
These need to be baked when the cheese is frozen, or you will have messy blob of cheese (which did happen to me when I was trying these out, and I have to admit, these still did taste great). If they are not still frozen when ready to bake, just simply return the breaded cheese to the freezer for 20 minutes then bake immediately.
My kids like dipping these in marinara sauce.
This a great activity to make with your kids.
Like it? Pin it!