This is a sponsored conversation written by me on behalf of Delta® Greek Yogurt. The opinions and text are all mine.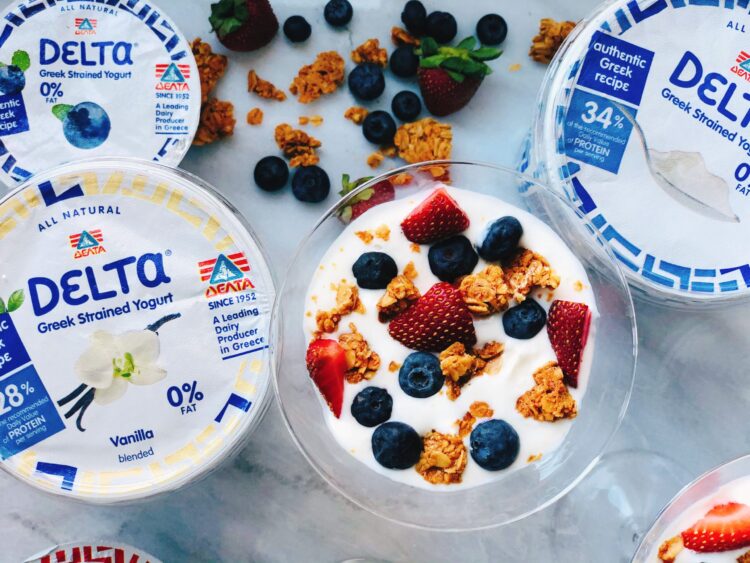 Looking for a healthy breakfast that is also quick and easy? I have you covered! After hearing my kids for the 100th time ask for something other than pancakes or cereal, I knew it was time to be creative. I wanted them to eat something healthy in the morning, but honestly, time was of the essence. One Sunday evening, I looked in the refrigerator and pantry to see what I could put  together. In 5 minutes I had a Monday morning breakfast. Most of you probably already have all of these ingredients on hand, you can add-in or take out per your kids' taste. They were definitely a hit and it didn't hurt that my boys thought it was so cool to eat breakfast out of a martini glass.
Creamy Delta® Greek Yogurt is layered with fresh fruit, delicious granola and coconut flakes (I did omit the coconut flakes for my pickiest son). These can be made in a nice serving dish for an impressive brunch or in a jar for a make-ahead, grab-and-go breakfast. You can even make several at a time – they keep for about 2 days in the refrigerator!
You have to appreciate that Delta® Greek Yogurt has been making yogurt for 70 years in Greece; it's exciting to find something so authentic is now available at my local grocery.
I also picked up some vanilla, blueberry, and strawberry yogurts for snacks. My family loved the delicious flavor (strawberry is my fav!) without the sour aftertaste that most Greek yogurts have. Plus, as a mom resolving to stock the kitchen with healthier choices, I'm glad to know that Delta Greek is non-GMO with no artificial growth hormones and no sweeteners. Plus, we all benefit from the extra protein boost each container provides
For these parfaits, I made my first batch with Delta® Greek Yogurt, Plain, 0% Fat, but if your kids like it a bit sweeter, I would suggest using vanilla or strawberry flavored Greek yogurt or adding a splash of honey on the plain yogurt. Nothing beats using fresh fruit- I love to add blueberry, banana, and strawberries to this fruit parfait. Feel free to switch up the fruit according to what's in season. I like to make a few of these ahead of time and keep them in the refrigerator so my kids can have a quick and delicious breakfast or snack. The yummy parfaits in these photos are made with strawberries, blueberries, and granola, and another variation is pineapple, banana, granola and coconut flakes.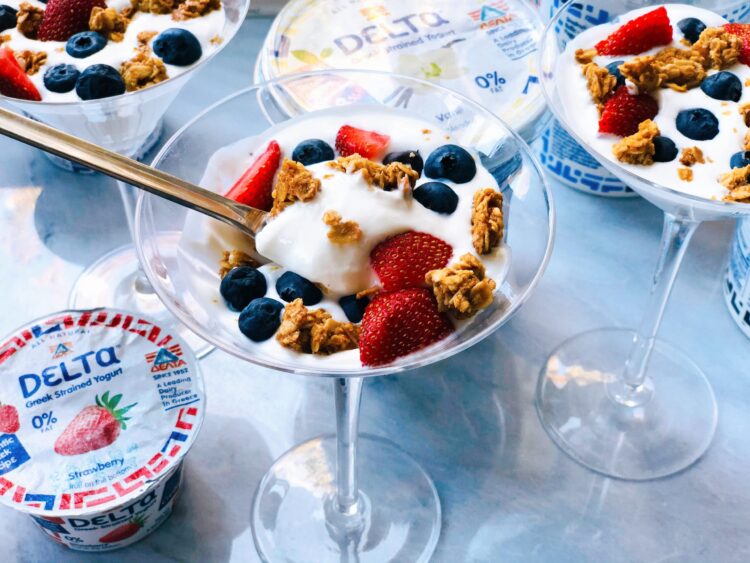 Kids' Favorite Breakfast Parfait
Ingredients
2 Delta® Greek Yogurt, 5.3oz cups (you can use plain, vanilla or strawberry)
1 cup sliced fresh fruit (can be pineapple, mango, strawberries, blueberries, banana etc.)
½ cup granola
1 tsp honey (optional)
2 tbsp coconut flakes (optional)
Instructions
Spoon one Greek yogurt cup into a serving dish (if using honey, add ½ tsp to the yogurt).
Layer with ½ cup fresh fruit.
Top with ¼ cup granola and 1 tablespoon coconut flakes.
Repeat above for each parfait.
This is a sponsored conversation written by me on behalf of Delta® Greek Yogurt. The opinions and text are all mine.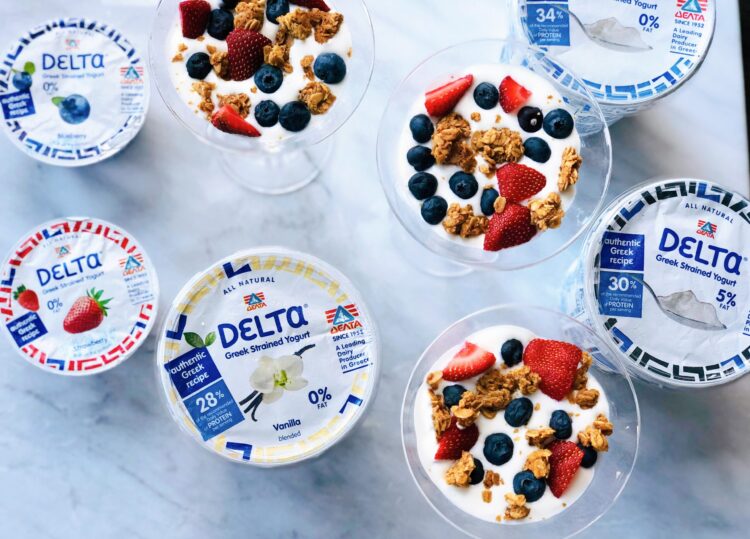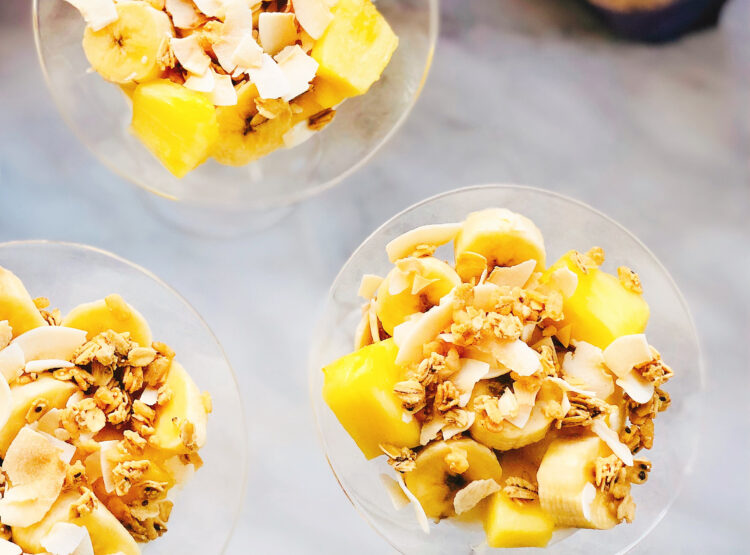 Like it? Pin it!