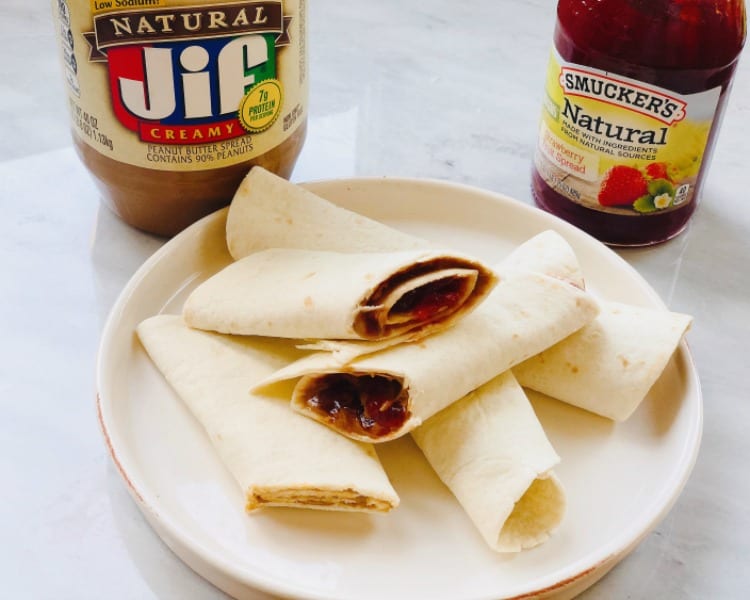 This is a sponsored conversation written by me on behalf of The J.M. Smucker Company. The opinions and text are all mine.
When I walked into Walmart two weeks ago, it is 97% possible that I may have released a small scream of panic at the sight of a tower of back-to-school supplies. HOLD UP. Wasn't it just yesterday that we were buying pool passes and stocking up on sunscreen? Is it time already for yellow #2 pencils and glue sticks? Can't we hold on a bit longer to these carefree days of summer — free from alarm clocks, soccer schedules, and spelling tests?
Don't get me wrong. There's definitely a part of me that will rejoice when the school bus carries my little darlings off to school this fall. But I have to be honest – seeing those back-to-school supplies triggered a lot of mom-anxiety: Will my kids find good friends? Will their teachers like them? Will any of the adults in our household understand the math homework this year? Will my child get cut from the team? Get a part in the play? Is THIS the correct 1" three-ringed binder with dual-pocket folder dividers that my third-grader is required to have? And don't get me started on my omnipresent fears of the distractions of video games and the dangers of social media. COME ON.
To avoid spiraling into a viral-video-worthy meltdown in the school supply mecca at Walmart, I made a sharp right turn and headed over to the grocery department. I'm at home in the kitchen, and these aisles are where I can find some solace. I channeled my worries to create a September snack to equip my very favorite students.
Back-to-school calls for delicious comfort food, so it's no surprise that I turn to the traditional treats of childhood. Just like a new box of crayons transports me to the simple joys of kindergarten, the familiar red, blue, and green label of a jar of Jif® Natural Peanut Butter Spread conjures up memories. I remember the first time I opened a brand-new jar of Jif. To a six-year old, the sight of the flawlessly smooth and creamy surface was like a breathtaking piece of art. The thrill of opening a new jar still remains, although my adult self chooses Jif Natural Peanut Butter Spread. (I like to know what my kids are consuming, and I love that Jif Natural Peanut Butter Spread has only five ingredients and with less sodium than its regular counterpart!)
On the bottom shelf, I spied the 40-ounce jar of Jif Natural Peanut Butter Spread. Placing it in my cart, my mood lightened. It was only a few steps down the aisle to find its perfect accompaniment: Smucker's® Natural Strawberry Fruit Spread. My mom always kept a jar at the ready, posted vigilantly right inside our refrigerator door, just as I do now. Having an extra jar on hand is always a good idea.
PB & J conjures up days of simplicity and innocence. The strawberry sweetness of Smucker's blends with the creamy nuttiness of Jif to create the best version of this classic. This iconic duo inspires my new twist: Bundles of PB & Joy.
I've replaced the white bread of my youth with whole-wheat tortilla wraps to allow these flavors to shine. The wraps also make this delicious treat both fun-to-eat and easily portable. Tuck one (or two) of these creamy and sweet bundles into your child's backpack for an energizing treat before soccer practice or for a yummy on-the-go treat in the car on the way to dance class. Try them for a satisfying breakfast or for the perfect after-school snack.
As moms, we worry.  It's what we do. Before the back-to-school headaches take over, let me encourage you to find joy in the simple things. Hearken back to the good old days and reward your kids – and yourself – with this innocently delicious treat.

Bundles of PB & Joy
Ingredients
4 Flour or Whole Wheat Tortillas (at room temperature)
½ cup Smucker's Natural Strawberry Fruit Spread
¾ cup Jif Natural Peanut Butter Spread
Instructions
SPREAD tortillas with Jif Natural Peanut Butter Spread to within ½-inch of edges.
Top Jif Natural Peanut Butter Spread with Smucker's Natural Strawberry Fruit Spread.
Carefully roll up tortillas.
Voilà: the perfect afternoon snack!
To serve, slice rolls in half or into 1-inch bite size pieces.
You can also wrap each rolled tortilla in plastic wrap and refrigerate for several hours or overnight. To serve, remove from refrigerator and let sit until it comes to room temperature.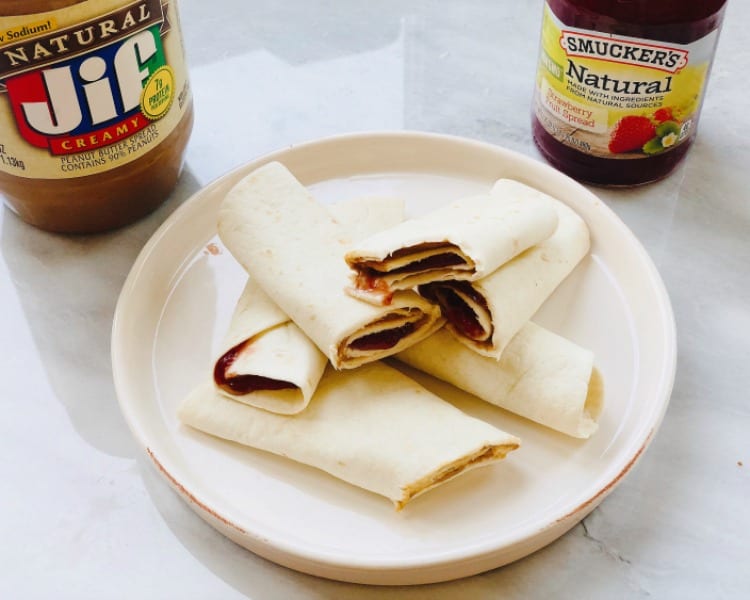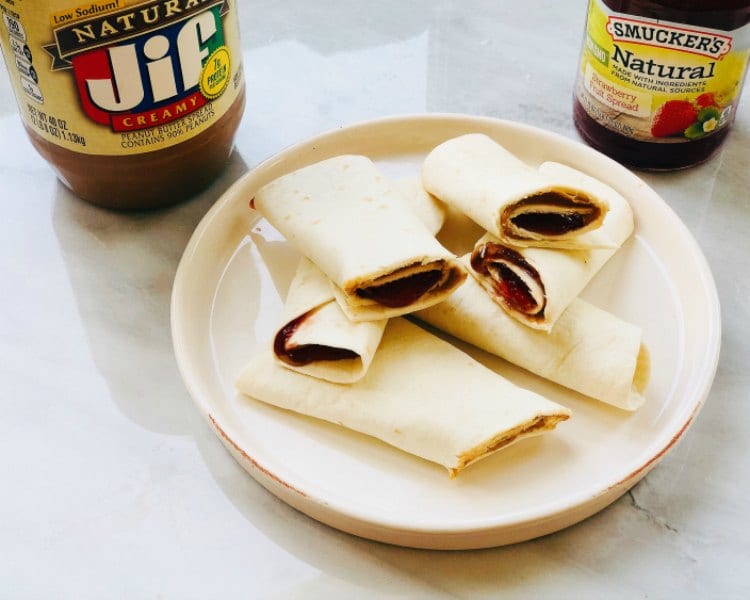 Like it? Pin it!