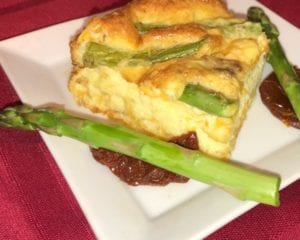 One of the most important traditions in many homes is Christmas morning. But after all the excitement of opening gifts simmers down, it's nice to sit down to a healthy and delicious breakfast. Here's a dish my family eats year 'round. It's easy – of course – and that's especially important for Christmas morning because Mom and Dad need to open their gifts, too! You can prepare it in advance and let it cook while everyone is waking up and attacking their presents. And in keeping with the Christmas theme, I've added some colorful vegetables in red and green to keep the spirit going through mealtime. All my kids love this egg dish, and I hope it becomes a tradition in your home, too.

Ridiculously easy Egg Soufflé
Ingredients
6 eggs
8 oz. small curd cottage cheese
8 oz. grated mild cheddar cheese
¼ cup Bisquick
1 cup milk
½ cup mixture of asparagus tips and sun dried tomatoes (drained and sliced)
Instructions
Preheat oven to 375 degrees.
Spray Pam into an 8X8 baking dish.
Mix the eggs in a large bowl.
Add each of the ingredients--cottage cheese, cheddar cheese, Bisquick and milk into the bowl. Stir until smooth.
Pour the egg mixture into the baking dish then sprinkle veggies onto mixture.
Bake for about 45 minutes, until the top browns.

Tips and Tricks:
You can easily double the recipe. Use a 9X13 baking dish.
You can use low-fat ingredients -- 2% cottage cheese, low fat cheese and skim milk.
We used red and green veggies for Christmas, you can use any variation – mushrooms, spinach, etc. Just make sure to drain them well.