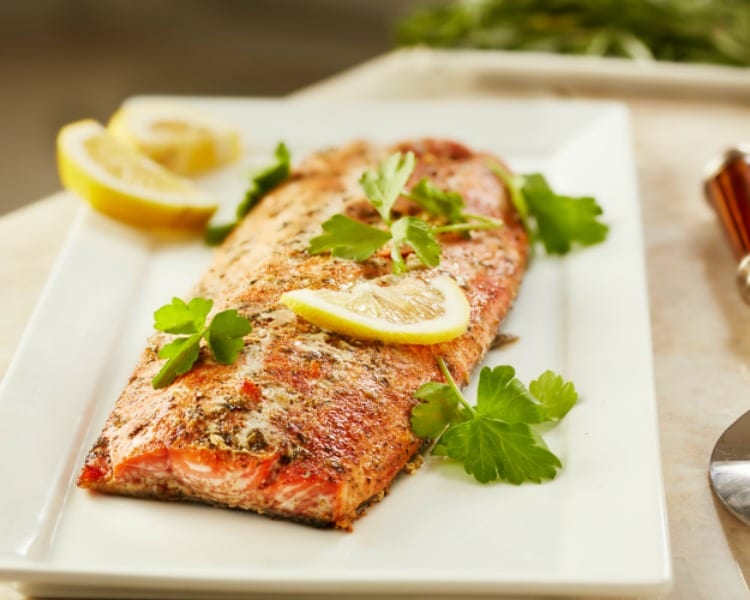 This is a fabulous weeknight family meal, simple and tasty. I suggest keeping the marinade stocked in your refrigerator. And yes, since many of you have asked, the story in my "tips" about not tending to my son who had just peed in the basement for the sake of not over-cooking the salmon is absolutely true! For those of you who have girls, you might not understand that this really does happen. For those of you with boys, feel free to write a comment below if it's happened to you!

Fabulously Easy Herbed Salmon
Ingredients
1 ½-2 pounds boneless salmon filet
1 tsp kosher Salt
1 tablespoon brown sugar (optional)
½ tsp chili powder
¼ cup Whole Foods Mediterranean Herb Marinade
Instructions
Mix together dry ingredients and rub on salmon.
Pour marinade over salmon
Bake at 375 uncovered for 20 minutes.
That's all..best salmon ever!

Tips:
If you are using skin-on salmon, spray pan with Pam so skin won't stick to pan
If you can't find the Whole Foods Marinade, use ¼ cup olive oil and a squirt of lemon juice
If you want this to look fancy, cut up some lemon slices and serve on the side
If after 20 minutes your timer beeps that the salmon is ready to come out of the oven and at the same time you hear your kids screaming in the basement that your youngest is peeing on the carpet, you screw the peeing situation and you take the salmon OUT of the oven…no matter what, you don't overcook salmon!