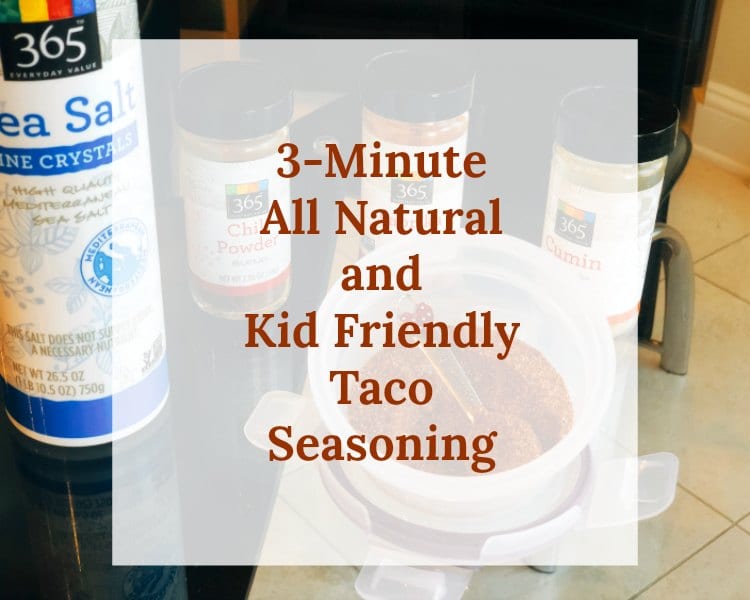 In our household, dinner on Tuesday nights is "Taco Tuesday". My kids love tradition and all 3 happen to love tacos, so it's a win-win for me! I never thought of making my own taco seasoning, it's just so easy to buy the packet at the grocery store. Until one day at 5 p.m. when I am starting to make the tacos and I realize we are out of our taco seasoning packets. I quickly went online to look up some recipes, but many were not very kid friendly, either too spicy or with ingredients I wasn't sure my kids would like. Since they were accustomed to the same tacos each week, I knew it had to be a familiar taste, I did not want to start making a 2nd dinner at 6 p.m. because my kids did not like my "new" tacos.
Well- I can tell you with this recipe that I threw together, not only did they all finish their tacos, 2 of my 3 asked for seconds, they had no idea there was a change. This taco seasoning took me literally 3 minutes to put together and I can only assume has much less salt than the store-bought brand. It is also made with just 5 all-natural ingredients, so it's a very healthy alternative. I hope your kids like this as much as mine did!

The Best 3-Minute Taco Seasoning
Serves:
2 pound of taco meat
Ingredients
2 tablespoons chili powder
1 tablespoon ground cumin
1 teaspoon paprika
2 teaspoons sea salt
1 teaspoon sugar
Instructions
Mix all ingredients in a small container.
After the meat is browned, add ½ cup of water and seasoning.
Cook until all of the water is absorbed and meat is seasoned.
This makes enough to season 2 pounds of ground meat.
Like it? Pin it!