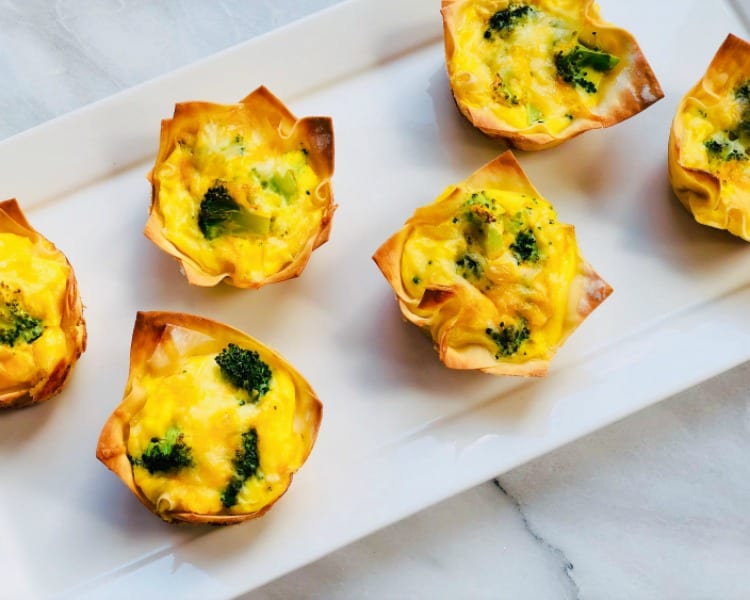 Prepare to impress with this quick and easy recipe for breakfast egg muffins in wonton wrappers. Not only are these delicious, they make a beautiful presentation! This is one of my favorite dishes to serve at a brunch, I usually make half with veggies and half plain cheese for the guests.
This is also a great recipe to make on a Sunday night and serve during the week as a "to go" breakfast for your kids. You can use any variation of eggs, cheese, veggies and meat that your kids like. My boys are partial to broccoli and cheddar cheese. These will last several days in the refrigerator. Just heat them in the microwave for 25 seconds when you're ready for breakfast. Enjoy!

Breakfast Egg Muffins in Wonton Wrappers
Ingredients
6 eggs slightly beaten
24 wonton wrappers
½ tsp salt
½- ¾ cup chopped veggies
¼ cup shredded cheese (I prefer shredded sharp cheddar)
Instructions
Preheat oven to 400 degrees F.
Whisk eggs and salt in a bowl. Add veggies.
Spray a muffin tin with cooking spray. Press a wonton wrapper into each opening to form a cup. The press a second wonton into cup diagonally so all sides are covered.
Fill cups with egg and veggie mixture.
Sprinkle cheese on top.
Bake in the preheated oven until eggs are set and lightly browned on top, 13 to 15 minutes.
Like it? Pin it!