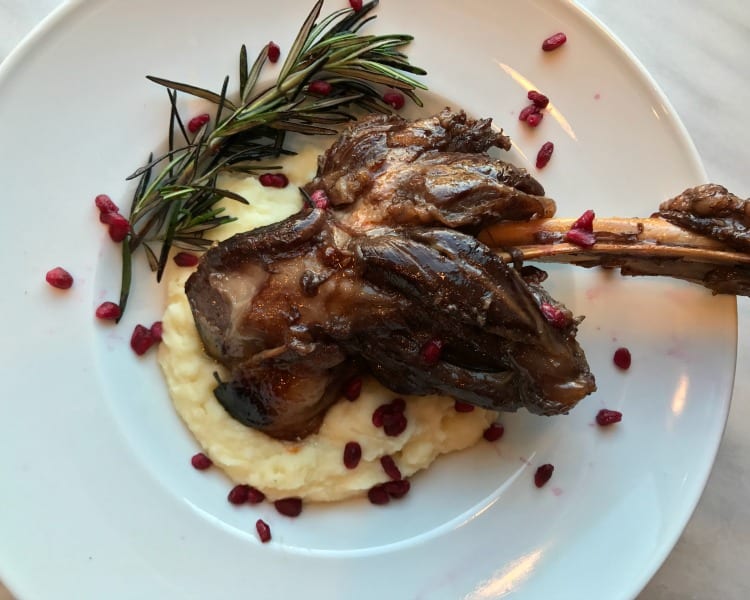 Our family, like most, have tried-and-true holiday traditions that we follow and cherish each year. But I also try to come up with something new for many holidays that I hope will turn into time-honored traditions. This year, I created a perfect dish for both Christmas, Easter and Passover — braised lamb shanks. The pomegranate juice adds a bit of sweetness that brings out the delectable flavor of the lamb. And with this beautiful presentation, no one will believe that it took just five minutes to create. Your family and holiday guests will be impressed with this easy and delicious recipe!

Holiday Menu Solved: Momma Chef's Oh-So Easy Pomegranate Braised Lamb Shanks
Ingredients
3 lamb shanks (about 4 pounds)
2 cups pomegranate juice
¼ cup honey
1 tablespoon chopped rosemary
1 tsp salt
3 chopped garlic cloves
Instructions
Preheat oven to 300 degrees.
Mix pomegranate juice, honey, salt, chopped rosemary and garlic in a large Ziploc bag. Add the lamb shanks to bag and, if possible, let it marinate several hours in the refrigerator.
This recipe can be made in a slow cooker or Dutch oven.
If making in the oven, pour all ingredients in a Dutch oven add ½ cup water and bake for 3 hours at 300 degrees.
If making in a slow cooker, pour all ingredients in the slow cooker add ½ cup water and cook on high for 6 hours. Serves 4.

Tips:
Lamb shanks are wrapped in many layers of plastic, make sure to remove all layers before cooking.
This dish is best served over a bed of mashed potatoes and sautéed spinach.
Before serving, drizzle with fresh or frozen pomegranate seeds.