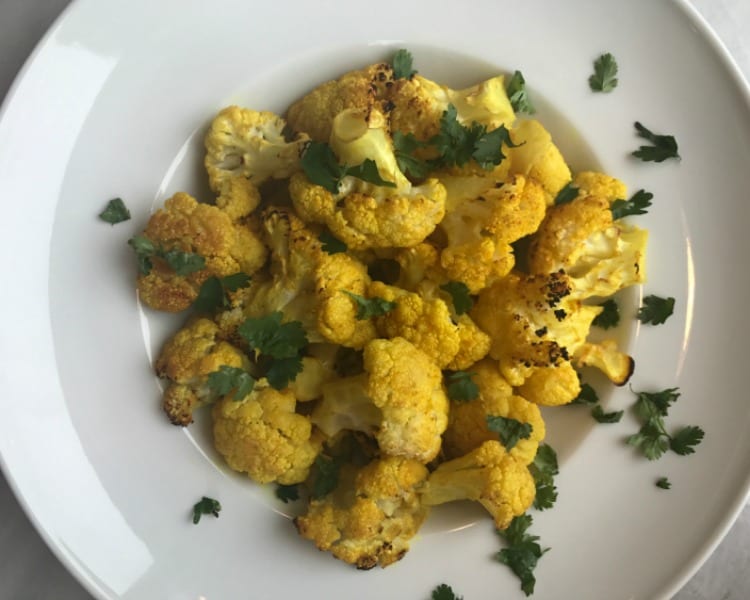 If you've never been a cauliflower fan, then you have not tried this recipe. Roasting this underappreciated vegetable transforms it from "meh" to marvelous. Adding turmeric elevates this dish to the next level. Its vibrant color changes the typically pale presentation of cauliflower into gorgeous golden-hued eye candy. Turmeric is more than just good looks, though. You won't want to miss out on the antioxidant and anti-inflammatory properties of this wonder spice. Call me shallow, though, because I totally forget all the wholesome perks of turmeric when I see how gosh-darn pretty this prepared recipe looks on my table.

Simple Turmeric-Roasted Cauliflower
Ingredients
2 lb. bag cauliflower florets
⅓ cup olive oil
2 tbsp lemon juice
1 tbsp sugar
1 tsp salt
1 tsp turmeric
Instructions
Preheat oven to 450°.
Pour olive oil, lemon juice, salt, turmeric and sugar into a gallon size Ziplock bag. Seal the bag and shake all ingredient to mix.
Add the cauliflower florets, seal the bag again, and shake one more time to coat the cauliflower.
Spread cauliflower on a foil-lined baking sheet or large disposable pan,
Roast for 15 minutes.

Tips:
I like to get my cauliflower florets from Costco
Sprinkle with chopped flat-leaf parsley before serving
Like it? Pin it!