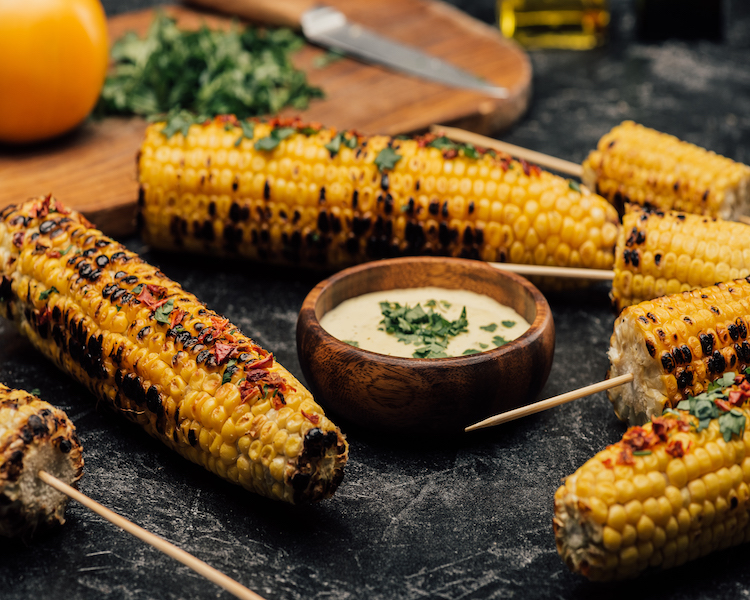 Summer is by far my favorite season. Vitamin D, family time and summer camp! I love sitting on our patio, hosting barbecues and eating ice cream. My kids and I can hang out instead of battling over homework versus screen time. Nothing tasted and smells more like summer than corn right off the grill. Here in Chicago, we are getting teased, one day it's sunny and in the 60's followed by a rainy day in the 4o's, so it's hard to believe that summer is really around the corner. With the forecast next week showing a promise of warmer weather, I am giving you loyal followers the hope of a summer cookout with this easy recipe for Grilled Corn with Sriracha Mayo. I only add in a little Sriracha but if your family likes things spicy, you can double the amount. Enjoy!

Grilled Corn with Sriracha Mayo
Ingredients
4 fresh cobs of sweet corn
1 teaspoon of fresh parsley, chopped
½ cup low-fat mayonnaise
1 teaspoon Sriracha sauce
Instructions
Remove the husks and silks from the corn.
Place the corn on a warm grill and cook on low heat for 15-20 minutes, turning the corn once halfway during cooking.
While the corn is cooking, in a small bowl mix together the mayo and Sriracha sauce.
When the corn is cooked, remove it from the grill, spread a light layer of the Sriracha mayo over the corn, and sprinkle with the chopped parsley.
Serve immediately.
Like it? Pin it!