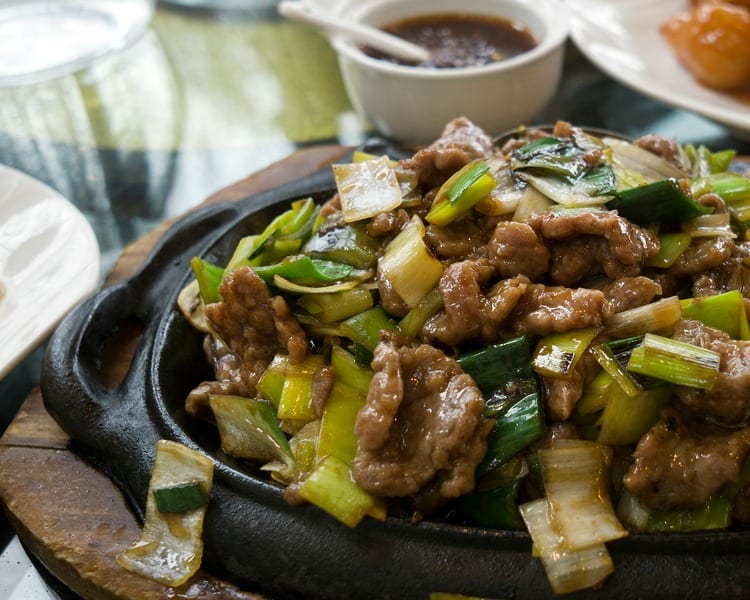 You know those meals when you spend hours in the kitchen and once the food is ready, you don't even feel like eating the meal? Yes- it happens to all of us! Well- this is NOT one of those recipes! This entire dish is devoured within five minutes of being served.
This is a simple take on the classic Mongolian Beef dish which is one of my kids' favorite Chinese dishes. They were ecstatic when I started making it at home. It is such an easy dish and I love how tender the beef is when finished cooking. I keep it very mild for my family but you can add 1/4 tsp dried chili peppers to kick up the heat. I This dish goes great with Trader Joe's frozen brown rice and steamed broccoli. I hope you enjoy as much as my family does!

Easy and Delicious Mongolian Beef
Ingredients
1 pound flank steak or London broil--thinly sliced
¼ cup Soy Vey Veri Teriyaki Marinade
2 tbsp. hoisin sauce
3 scallions sliced into 1-inch pieces
1 tsp ground ginger
1 tbsp sesame oil
Instructions
Pour Soy Vey, hoisin sauce and ground ginger into a gallon size Ziplock bag. Seal the bag and shake all ingredient to mix.
Add beef and scallions, seal the bag again, and shake one more time to coat the beef.
Marinate several hours or overnight.
When ready to cook, heat up wok or large frying pan over medium-high heat and add sesame oil.
Pour all ingredient from Ziplock bag into wok/pan and stir-fry over medium-high heat for 5-7 minutes. Mixing as it cooks until the sauce is thick and coats the beef and scallions.
Alternatively, you can cook this in a Crock-Pot, just add all ingredients from the Ziplock to Crock-Pot and cook on high for 3 hours.

Tips
If you do not have time to let this marinate- I made this dish tonight with only marinating 30 minutes and it will still delish!
I like to double the recipe if I am making it for a family of 5+.
I order my steak in advance and have the butcher slice it thin, saves a step.
Like it? Pin it!