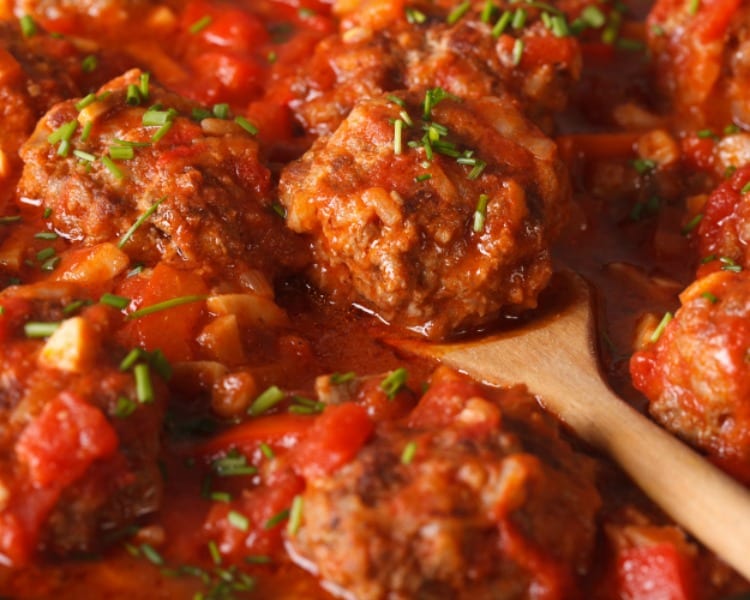 A friend was spending time with a family member in the hospital, and I offered to cook dinner for her family. Somehow in the midst of a busy day, I had completely forgotten about preparing the meal. When my friend called to see if I was still planning to drop off the food in 45 minutes, I said "Of course!" This is the meatball recipe I created on the fly. I happened to have some garlic bread in the freezer, which I popped into the oven. I threw together a salad while the meatballs were cooking. In less than 40 minutes, I made an entire meal for a family of five! As a bonus, my friend called later that night to say how much her kids loved the meatballs. To this day, she has no idea that I had actually forgotten about making the meal. Well . . . up until this day.

Delicious and Simple 3 Ingredient Meatballs
Ingredients
1½ pounds extra-lean ground beef
1 20 oz jar tomato basil past sauce
2 tbsp. olive oil
1 tsp. salt
Instructions
Heat a skillet or pan over medium-high heat.
Add oil; swirl to coat.
Shape 20 meatballs (about 2 tablespoons each) and place in the olive oil.
Sprinkle with salt.
Sauté meatballs 3 minutes on each side then add pasta sauce over meatballs.
Cover with a lid or tinfoil and cook for 15 minutes.
Serve over rice or pasta.

Tips:
You can substitute ground turkey or ground chicken.
Alternatively, this can be made in the Crock-Pot on low for 6 hours.
Like it? Pin it!