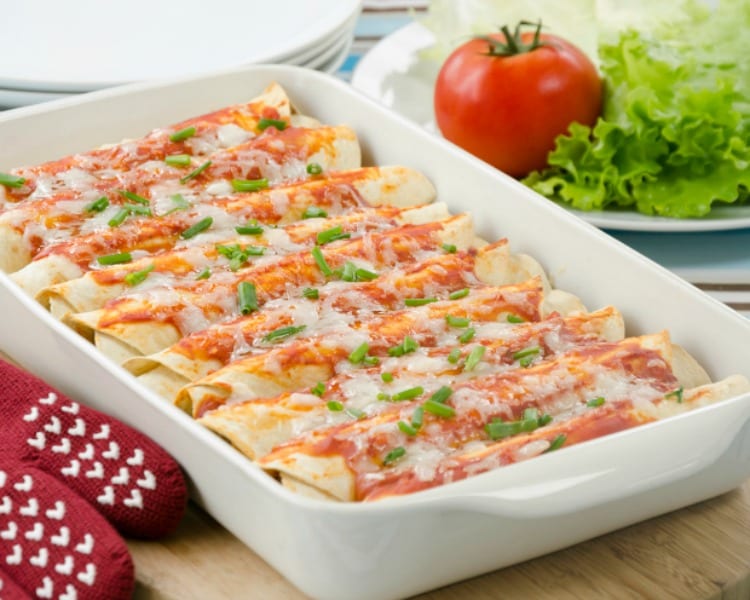 When my friend called to ask if I would like to try a delicious recipe that would be perfect for Momma Chef's "6 under 6", I most definitely said, YES! Especially since this friend, Jordan, is an amazing cook. I knew this would be a recipe I wanted to get online ASAP. When I asked him if he had taken any photos, he explained that he wasn't able to get any since his wife and daughters finished the entire dish. Within one week of getting this recipe: I tried it, fed it to my family and it is coming to all of you! This is a vegetarian version, but you can absolutely add some shredded chicken or ground beef to the black bean mixture, I would add 1/2 cup of chicken or beef. Thanks for this recipe, Jordan! Show him some love – if you make it, please comment below. Enjoy!

Jordan's Simple and Delicious Vegetarian Enchiladas
Ingredients
6 medium size tortillas
1-15 oz.can of black beans, drained
1- 4 oz. can of chopped chilies, drained
½ packet of taco seasoning
¾ cup shredded cheddar or jack cheese
½ jar salsa
Instructions
In a small pan over low heat, warm black beans, chilies and taco seasoning together for 3 minutes.
While this is warming, take ⅓ cup salsa and spread on the bottom of an 8x8 or 10x12 pyrex.
Spoon black bean mixture into the tortillas, fold and put in the pyrex (seam-side down or on the side)
Repeat for the remainder of the tortillas.
Spoon another ⅓ cup of salsa on top of the rolled tortillas and then put a layer of cheese on top
Broil for 5-7 minutes (keep an eye on this).

Tips:
If serving for company, I like to sprinkle with some chopped herbs right before serving.
This goes great with some sour cream and extra salsa.
Like it? Pin it!