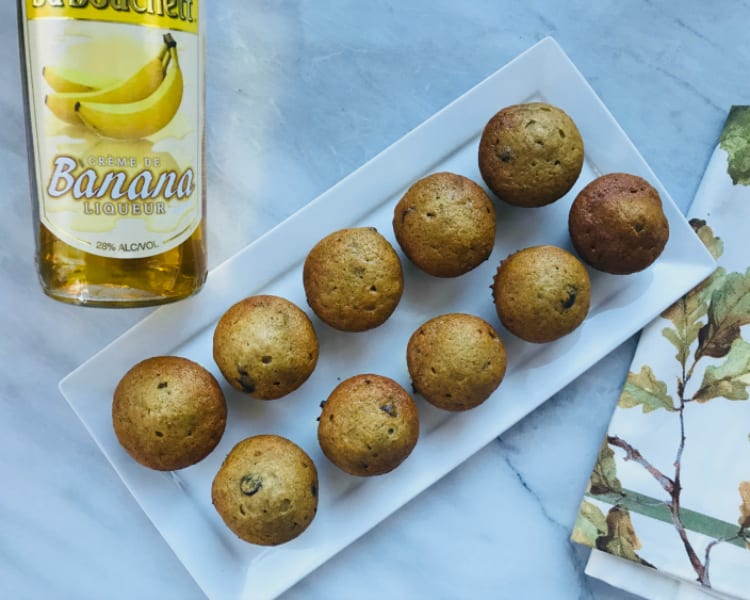 Before I share what has become my favorite muffin recipe, I have a very important confession: this recipe has seven ingredients. Yes, I can almost hear the gasps from all of you Momma Chef followers because I know it does not technically fit my "6 Under 6" rule for all recipes.
I tried very hard to get this recipe down to six ingredients, but I couldn't. On the almost one-year anniversary of launching Momma Chef, I am making an exception for one extra ingredient. But don't fret. These muffins are a one-bowl recipe that you can whip up in under five minutes prep time!
My friend was having a celebration at her house, and I offered to bake something for her out-of-town guests. She requested my banana muffins. While I love my 6-ingredient banana muffin recipe, I wanted to surprise her with something new and unique for this special occasion. Adding chocolate chips or chocolate frosting — or both — had been done. Then it hit me — how about adding banana liqueur to the muffin recipe?
All I could say when these came out of the oven was WOW! They were absolutely, positively delicious! You cannot taste the liquor, but it added such a unique flavor and gave the muffins a very moist texture. And before you ask — YES, they are kid-friendly. By using only three tablespoons of banana liquor for 35 mini muffins, most of the liquor will burn off during baking. What's left is the added flavor. Your kids will not feel the effect of the liquor, although after watching my three boys devour about five mini muffins each I was secretly hoping I would hear the words every parent longs for on a weekend day: "Mommy, I'm tired." Nope didn't happen!
If you're making these as mini muffins, be careful when baking. They cook quickly, and you'll need to get them out of the oven before they burn. Start checking with a toothpick at the 8-minute mark. You can also add semi-sweet chocolate chips to these muffins. But that would make it eight indigents! My kids would tell you to make another exception since they love anything with a little added chocolate.
Happy baking!

Delicious Banana Liqueur Muffins
Ingredients
1 ½ c. whole wheat flour
3 overripe bananas
3 tablespoons Banana Liqueur
½ c. honey
1 tsp. baking soda
2 large eggs
⅓ c. avocado oil
Instructions
In a large mixing bowl, add all seven ingredients above and blend with a hand mixer for three minutes.
Fill greased or paper-lined mini-muffin cups ¾ full.
Bake at 375° for 8-10 minutes or until a toothpick inserted near the center comes out clean.

Tips:
If these are only going to be eating by adults (no kids) you can increase the Banana Liqueur to ½ cup and decrease the oil to ¼ cup. They are even more scrumptious this way!
You can add ½ cup chocolate chips (my kids prefer semi-sweet).
The muffins will stay fresh in an airtight container or Ziploc bag for two days. After that, put them in the refrigerator.
If refrigerated, put the muffins in the microwave for 10 seconds to warm before serving.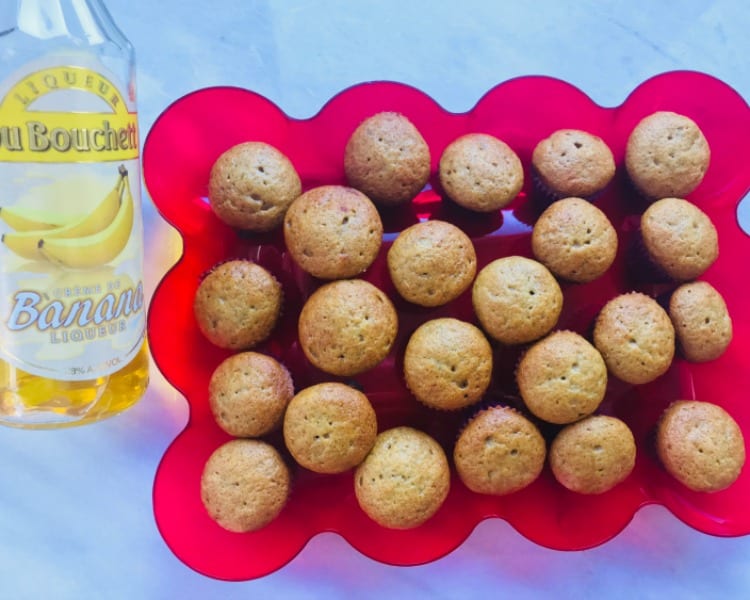 Like it? Pin it!