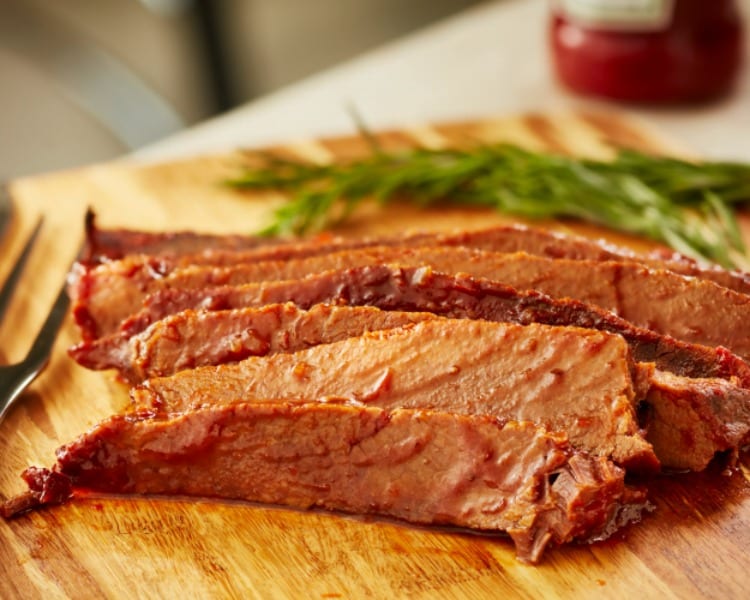 I'll never forget the first time I enjoyed this marvelous and mouth-watering dish. I was pregnant with my first. It was a holiday, and my aunt Gloria made brisket for our family party. The brisket was a hit – particularly with my cousin Amy who was 9.5(!!) months pregnant and with me, who was 4 months along
The following morning, I woke up c-r-a-v-i-n-g the brisket for breakfast. Fortunately, my aunt had made so much of it that I knew there were plenty of leftovers in the refrigerator. My mouth was watering, and my baby was kicking in anticipation of enjoying another round of the ambrosial brisket. Needless to say, this little momma was none too happy to find out that my husband and my cousin Joey had scarfed down the entire two pounds during a 4 A.M. "snack" during a marathon video gaming session! So, yeah – that was 17 years ago, and I've almost forgiven them.
In any case, I adopted this amazing recipe, making a few minor changes throughout the years that made it a bit easier to fit into my busy lifestyle. Are you surprised that her secret ingredient is a can of Coca-Cola? The sugar in the soda will tenderize the meat and add a wonderful sweetness; and before you ask, for those reasons, do not use Diet Coke.
While the brisket may take a couple hours to cook, you will only spend 5 minutes getting it in the oven or slow cooker, and then you can step away and enjoy the tantalizing aromas coming from your kitchen. Brace yourself for a life-changing brisket. It's the best of the best.
Consider yourself warned: hide the leftovers!

Easiest (and Best) Old-Fashioned Brisket Recipe
Prepare to impress with this easy and delicious brisket recipe. A family favorite!
Ingredients
1 (3- to 4) pound beef brisket
1 (1-ounce) envelope onion soup mix (my favorite is Lipton Onion Soup Mix)
1 (12-ounce) bottle Heinz Chili Sauce
2 cups ketchup
1 (8-ounce) package of sliced mushrooms, optional
1 (8-ounce) can of Coca-Cola
Instructions
Preheat the oven to 300°F.
Place the brisket in a disposable pan or slower cooker.
Sprinkle the onion soup mix over the brisket, and top with the chili sauce and ketchup.
Add the mushrooms, if using, pour the Coca-Cola over everything, and add 1⁄2 cup of water.
Bake the brisket covered in the oven for 4 hours at 300°F or in the slow cooker on low for 6 hours, until the meat is very tender.
Remove the brisket from the oven or slow cooker, and let the brisket come to room temperature before slicing. This takes about 30 minutes.
Cut the brisket against the grain before serving.

Tips:
Keep fat on the brisket to flavor while cooking and trim off when finished and slicing.
Make sure to cut against the grain, the butcher will show this to you (tip for all beef).
Do not use Diet Coke..only regular Coke.
If you want extra sauce for gravy, you can add ½ cup water after 2 hours of cooking to the bottom of the pan.